Police monitor illegal rave in Brechfa, Carmarthenshire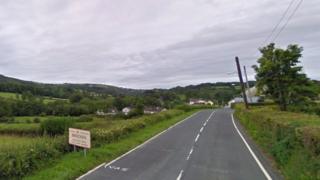 Police are continuing to monitor an illegal rave they were first made aware of in the early hours of Sunday.
Dyfed-Powys Police said they were called to the large gathering at a remote location in Brechfa, Carmarthenshire, at 01:15 BST.
A spokesman said officers were prioritising stopping further entry of people and vehicles.
Charlotte Slade, who lives nearby, said residents were angry about the way their area was being treated.
She said: "Some local residents have been verbally abused and physically threatened when they approached the site, greeted with vomiting partygoers, and broken bottles and litter strewn about.
"Local businesses have lost customers with people deciding to move on rather than listen to the incredibly loud and obnoxious music which can be heard for nearly a 16-mile diameter."
The police spokesman urged residents in the area not to take matters into their own hands and to let the police deal with it.
He said the decision was made to stop further people entering because of the numbers involved and "safety aspects surrounding breaking up the event".
"A police presence is being maintained today and the gathering is being closely monitored continuously, in order to minimise disruption to the local community."
He said officers were liaising with concerned residents and the National Police Air Service had also helped gather further intelligence and evidence.
"This type of event causes considerable anxiety and distress to the community," he said.
"There is little doubt that these types of events are very well planned, organised and that local knowledge is important in drawing down the main group to a particular 'vulnerable' field, or area of land.
"We assure local communities that appropriate action is being taken to disrupt and deal with this event, and we will robustly investigate any criminal offences discovered.
"We understand the strength of feelings in respect of this, but we urge locals not to take matters into their own hands, and let the police deal with it.
"We do not want potential attendees to the gathering to be under any illusions either - do not travel to the area as officers are there and you will be turned away."