More than 50 dead sharks wash up on Swansea beach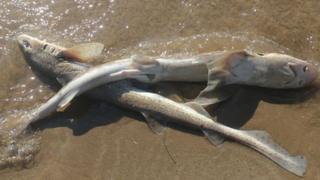 More than 50 sharks were found washed up on one of Swansea's beaches over the bank holiday weekend.
Laura Campbell made the discovery on Rhossili beach on the Gower Peninsula while on a camping holiday with her boyfriend.
Ms Campbell said the discovery was "shocking".
The 24-year-old and her boyfriend, who are from Berkshire, were walking along the 1.5 mile-long sands when they spotted the sharks.
She said: "We saw sharks every metre or so. I think there were more than 50 in total."
"One of the sharks had a piece of fishing wire going through it and fishing gear had been left on the ground."
The discovery comes after a mysterious creature was found on the same beach last week.