Princes Gate sale: Nestle buys Pembrokeshire bottled water firm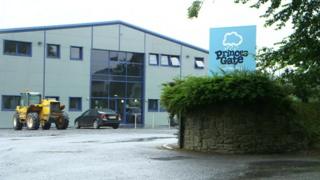 A Pembrokeshire-based bottled water company has been bought by food giant Nestle.
Nestle Waters has acquired a majority stake in Princes Gate which is the UK'S eighth biggest producer of bottled water, employing 49 people.
The company was founded by brothers David and Glyn Jones on their family farm near Narberth 27 years ago.
Nestle said the company would operate as a separate entity and no jobs would be affected.
It added it would be run by its current management team in its current location.
David Jones will retain a minority stake in the company.
In a statement the Jones brothers said they hoped the sale would "supercharge" the business.
Nestle Waters, which is based near Buxton, Derbyshire, said it had bought the Pembrokeshire company amid growing demand for bottled water and the acquisition would allow it to "effectively respond to customer demands".