Controversial St Davids Premier Inn gets go-ahead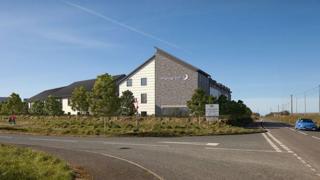 Controversial plans for a new hotel in Pembrokeshire have been given the go-ahead despite fierce opposition.
Premier Inn will build the 63-bedroom hotel in St Davids and the scheme will also include 38 affordable rented homes and a further 32 properties for sale.
Twenty-two jobs will be created at the Premier Inn at Glasfryn Road.
The plan faced a 5,000-signature petition and 281 objection letters but 78 were in favour and Pembrokeshire National Park Authority backed it.
Members of the campaign group No to Premier Inn (Nopi) said they will consider asking for a judicial review.
They argued St Davids - a remote cathedral city in a national park - is no place for a multi-national company which would have an impact on existing small accommodation providers.
"The hotel is actually going to remove land from the housing pool, so we're actually going to have 20 houses less now, because we're going to have a Premier Inn there," said Graham Perkins from Nopi.
But supporters fear St Davids could become stuck in the past if it rejects such schemes.
Christine Williams, from Yes to Premier Inn, added: "The schools have been under threat, the community has been contracting, there are more and more second homes standing empty for most of the year.
"We need the jobs, and this will extend the tourist season, and increase footfall, which will benefit many local businesses."
Kevin Murray, head of acquisitions for Whitbread, which owns Premier Inn, said the decision was "a vote of confidence for investment and sustainable growth in St Davids".
He added: "The designs for Glasfryn Road were developed through consultation and discussions with the Pembrokeshire Coast National Park Authority and other stakeholders.
"These discussions have helped to shape a well-designed new development that will make a positive and long-lasting contribution to the city's future."