Ex Wales rugby player Rhian Nokes jailed over pupil sex charges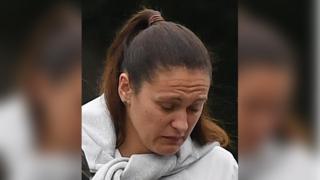 A former Wales women's rugby player has been jailed for seven years after being convicted of sexual activity with an underage girl.
Rhian Nokes, 29, had been working as school's sports coach in south Wales in 2010 when she started a relationship with the pupil.
She was sentenced at Swansea Crown Court after admitting charges at a previous hearing.
Nokes lied about a brain tumour to gain sympathy and trust, the court was told.
The court heard she had played rugby for Wales in the women's Six Nations competition and football for Cardiff City.
Prosecuting barrister, Catherine Richards, said the young victim had her childhood taken away.
The sexual offences happened outside of school when the victim turned 15.
The court was also told Nokes shaved her hair and feigned seizures in front of the pupil to make her lies more convincing.
She also sent 12,000 text messages to the teenager over the course of a year.
Nokes, from Taibach, Port Talbot, initially denied seven offences of sexually activity with a child but then admitted her guilt half way through a trial in April.
In a personal impact statement read in court, the young woman described how Nokes had "manipulated" her.
She said she viewed her as a "role model", but that she was left feeling "lost, scared and in denial" when she realised Nokes had been lying.
"When I was told she was terminally ill I had nothing else on my mind but to be there for her," she said.
Caroline Rees, defending, said Nokes struggled with her gender as a child and often felt lonely.
Ms Rees added: "She knows it was wrong of her to take out her feelings on a vulnerable child."
Judge Paul Thomas told Nokes she had groomed the girl and described the case as "unusual to the point of bizarreness"
He added: "The wickedness here is the predictably devastating effect on her life."
Nokes has been ordered to sign the sex offenders register for life. A restraining order was also issued to prevent her from contacting her victim.
After the hearing, Nicola Powell, from the Crown Prosecution Service, said Nokes "hid behind her reputation as an accomplished sportswoman and abused the position of trust".
Det Sgt James Morris, from South Wales Police, said: "The victim in this case admired Nokes and all she had achieved, but Nokes used this admiration and a string of callous lies to groom her for her own sexual gratification.
"The victim in this case has shown considerable strength and courage in coming forward to report the abuse she suffered."
Nokes admitted sexual activity with a child and inciting a child to engage in sexual activity.
She was also handed a lifetime ban from playing rugby by Welsh Rugby Union.