£1.3bn Swansea Bay tidal lagoon decision expected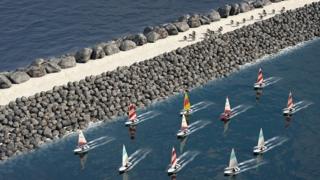 A much-awaited decision on whether to go ahead with a £1.3bn Swansea Bay Tidal Lagoon is expected on Monday.
Energy Secretary Greg Clark is due to make a statement in Parliament on the project, which is expected to be rejected by the UK government.
It comes 18 months after a review backed the lagoon as a "no regrets" option.
Developers had claimed 155,000 homes would have been powered by the turbines.
If it is refused, the decision will come just one day after the Welsh Conservatives urged the UK Conservative government to back the project, saying it could "unleash an economic revolution".
The statement is expected to be made in the House of Commons by Mr Clarke on Monday afternoon, shortly before MPs were due to quiz his junior minister Claire Perry on why it has taken 18 months for a decision to be made.
Ministers have said the project must provide "value for money" and warned the energy produced would cost a lot more than nuclear power, despite claims by Gloucester-based developers Tidal Lagoon Power (TLP) that a revised offer made it cheaper.
On Sunday, Suzy Davies, Conservative AM for South Wales West, said real value for money would be delivered as the UK could become the "undisputed" global centre for expertise.
Mrs Davies claimed tidal lagoon power was no longer set to be so expensive, and would be a major boost to the Welsh economy.
"The tidal lagoon is an opportunity to unleash an economic revolution in Wales, on a scale not seen since the regeneration of Cardiff Bay," she said.
Earlier in June, First Minister Carwyn Jones offered £200m from the Welsh Government to help build the lagoon. and the Wales Pension Partnership has offered its support.
Welsh Secretary Alun Cairns said he would "really like" the project to go ahead, but warned that the UK government was "still looking at the numbers".
Tidal lagoon: The timeline
2003: Plans first emerge for a £30m tidal power project in Swansea Bay from a green energy charity
2006: Tidal Electric Ltd prepares a scoping report for a lagoon to take the project on but it is put on hold
2012: Tidal Lagoon Power (TLP) unveils its ambition to develop a breakwater and power generation
2013: TLP starts developing its plans
2014: Plans submitted to Planning Inspectorate with a cost of £850m
2015: Proposals get backing of UK government, subject to subsidy agreement - hope it could be operational by 2018
2016: Report warns of impact on fish and Charles Hendry is appointed to lead independent review into £1.3bn lagoon's viability
2017: Hendry review backs the lagoon as a "no regrets" option but the UK government is still to decide
2018: Delays, mostly believed to be over arguments over value for money. Welsh Government also offers substantial investment, as does Wales Pension Partnership