Police carry out drugs raid at Newcastle Emlyn pub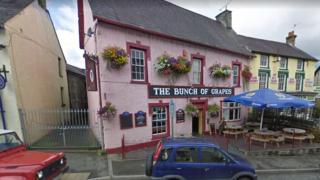 Drugs have been found at a Carmarthenshire pub following a raid by police.
Officers searched the Bunch of Grapes in Newcastle Emlyn on Sunday, where drugs including cannabis, and tablets believed to be diazepam, were found.
Dyfed-Powys Police said interviews will be carried out with people involved but did not say how many.
Temporary Inspector at Adam Cann said Sunday's raid "was in response to concerns raised within the community".
He added: "The message from the community is clear - illegal drugs cause misery and they need to be taken off the streets."