Dad who runs after son's suicide finishes Swansea Half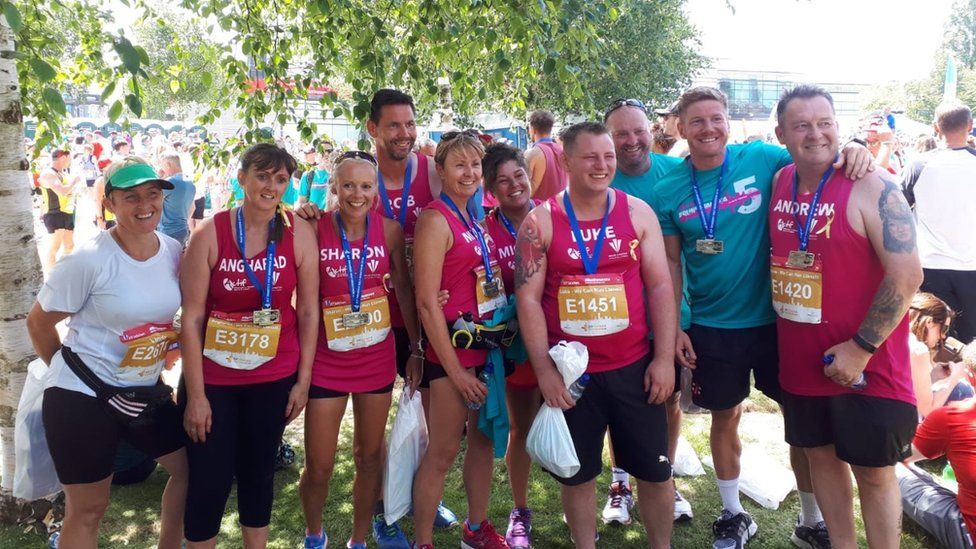 A father who took up running after his son took his own life has said finishing his first half marathon was the "best thing he's ever done".
Andrew Bowen's son Ryan, 18, died in June last year devastating his family.
The 52-year-old from Llanelli took up running to help himself cope and completed the 13.1 mile race in 2 hours 23 minutes on Sunday, despite the heat.
The postman, who has post-traumatic-stress disorder (PTSD), said his son would have been proud.
"From mile nine it was a real struggle, but it was awesome," he said.
"I'm so glad I got there. I knew I had to keep going. The training and preparation went really well and in spite of the heat we did it. I'm so relieved."
Mr Bowen joined a council-founded running group in Carmarthenshire to help people living with mental illness including depression, anxiety and PTSD after his son died.
The We Can Run Llanelli group is led by specialist running coaches from Welsh Athletics and mental health support workers.
He said his son Ryan "wouldn't have believed his dad could do this," but said he was sure his son would have been proud of him.
The group for people living with depression, anxiety and PTSD began meeting in January when Andrew was, in his own words, a "17st couch potato who smoked 20 or 30 cigarettes a day".
Runners could be referred to the group by GPs, mental health case workers, voluntary groups or they could ask to join themselves.
Coach Sharon Leech says leading the group has been one of proudest achievements of her career in athletics.
"Leading them has been so fulfilling. They didn't have any self confidence, they said 'We're too old to do this', but they've shown that they can," she said.
"I am so pleased for them, I always thought they were capable of doing it."
Everyone had a buddy runner and a mental health nurse was part of the group, offering professional mental health support in the twice weekly training sessions.
For Mr Bowen, finishing the half marathon is not the end of his running journey and he is already thinking about his next race
"This isn't the end of it, running is a way of life for me now," he said.