Lagoon decision another 'kick in the teeth' for Swansea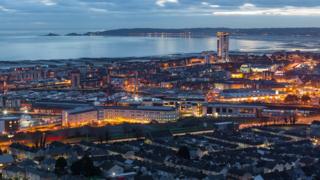 They say bad news comes in threes - but in Swansea's case it feels like one hammer blow after another.
Little over a month after the Swans dropped out of the Premier League, the chances of the city now ever having a tidal lagoon look like they have sunk too.
It came hot on the heels of Swansea's failed City of Culture bid - and disappointment that the Great Western mainline was only being electrified as far as Cardiff.
You could perhaps forgive a lot of people in Swansea for being pessimistic, cynical and despondent.
Swansea University's professor of modern history Martin Johnes said there was a "lot of resentment" - a feeling that the city was continually missing out.
"All these knock backs gives the idea that you are being forgotten or marginalised," he said.
"Although Swansea's big problem in part is the anger at the comparison with Cardiff.
"Cardiff has clearly economically developed and it's clear to see how physical infrastructure has shot on."
'Betrayal'
Swansea East MP Carolyn Harris talked of the "frustration and anger" felt in the city.
Gower MP Tonia Antoniazzi told MPs the rejection of the lagoon was a "dereliction of duty" by the UK government, while Aberavon MP Stephen Kinnock called it a "betrayal" of the people of Wales.
Local enterprises were also unhappy.
"Businesses in this region are naturally angry about the announcement today," said Dawn Lyle, co-founder of business hub 4The Region.
"Yet again the Westminster government has refused to back an important project for the future of this region - first not backing rail electrification and now with the tidal lagoon."
But Welsh Secretary Alun Cairns said "no stone was left unturned" in looking for a way forward.
"I really wanted this project to happen but the value for money case could not be proven," he told BBC Wales.
The lagoon plan was first hatched back in 2003 a time when Lee Trundle had just joined the Swans football team and Beyonce had just gone solo.
Priced then at a relatively frugal £79m, the initial plans won backing of local business groups as well as environmental campaigners.
It later led to a campaign called Love The Lagoon which won public backing from the city's football stars, singer Bonnie Tyler and Welsh rugby legend Shane Williams.
Among those joining in with the collective groan in Wales' second city to UK energy secretary Greg Clarke's House of Commons address was Swansea council leader Rob Stewart.
He labelled it a "kick in the teeth" for the city, Wales and the UK.
"Take a look at the £55bn HS2 project - which is about supporting the economic prosperity of the north of England," he said.
"I don't feel like we've been given our fair share.
"The promises on electrification were reneged - take the lagoon out of the equation and you're looking at £2bn worth of investment that has disappeared.
"The lagoon bid has been quite unique in a way because it united a lot of people in Swansea and won universal support - even from political parties."
Hope for future?
However despite the lagoon deal being spurned, Mr Stewart insists all is not lost - with the City Deal still on the table and work well under way on a major transformation of the city centre.
Something that Prof Johnes also agrees with.
"Yes the electrification and relegation from the Premier League are big symbolic knocks to the city," added the Swans supporter.
"But when you think about the former, would taking a few minutes off a train journey really make that much of a difference?
"I'm not an economist or an engineering expert, but from a historical perspective just because something isn't going to happen now does not prevent it from happening in the future."