Milford Haven £685m green energy facility rejected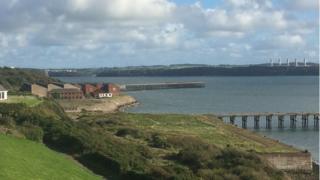 Plans for a £685m investment at a renewable energy facility in Pembrokeshire have been rejected.
Egnedol bought the former refinery at Waterston and the RNAD Blackbridge site in Milford Haven to generate green energy from biomass and potentially create more than 500 jobs.
However, after an 18-month application, planning inspector Clive Nield recommended it be turned down.
The potential impact on traffic and ecology was behind the refusal.
The decision was also backed by energy, planning and rural affairs secretary Lesley Griffiths.
Mr Nield said the scheme would be "unacceptably harmful to the character and appearance of the area" and there were "important shortcomings" in the environmental data.
Egnedol has been approached for comment.