'Worrying time' for Fishguard over Stena Line funding cut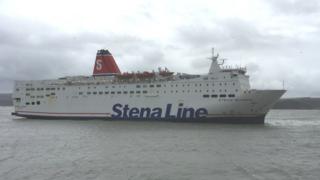 Fishguard's ferry terminal may be under threat after £5m of investment from ferry operator Stena Line was shelved, an expert has said.
Dr Andrew Potter from Cardiff University said the port could struggle to survive without the funding.
He highlighted increased competition from Europe and the potential impact of Brexit as concerns for the port.
Local councillors have said it is a "worrying time" for the town. Stena Line has been asked for a comment.
Dr Potter said: "There's potential competition from Southern Ireland with direct routes to France and Spain. There's also competition from Pembroke Dock.
"Again the two routes compete against each other, and Stena Line has to look at the Holyhead route which is the main Irish sea route.
"It may be that they are reserving their funds for Holyhead at the expense of Fishguard."
Councillor Pat Davies added: "I know a lot of young families who are employed there.
"We have a family member who's employed there and it is an extremely worrying time.
"There is no alternative employment in our area to pick up that shortfall."