Crowds watch spectacular Wales Air Show from Swansea beaches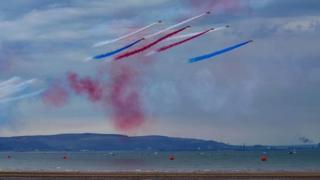 Spectacular stunts were watched by hundreds of thousands of people as sunshine drew record-breaking crowds to Swansea beaches.
On Saturday people flocked to the Wales Air Show to watch displays by The Red Arrows from the sand.
But two displays had to be cancelled on Sunday due to showers.
The council said Saturday's event, which coincided with National Armed Forces Day, was its best ever turnout.
The two day show saw displays by The Red Arrows, the Battle of Britain Memorial Flight, and fighter planes from World War One.
Councillor Robert Francis-Davies said it was "one of the best weekends the city has seen".
"The Airshow contributes more than £8.4m to local businesses and local economy every year," he said.
"Thanks to the clear skies, we had our best ever Saturday with tens of thousands of people on the beach soaking up the sunshine and the show."
He added: "We're still evaluating Sunday's figures after the rain but it has been a truly amazing weekend.
"Despite the showers, Sunday's show still went ahead and we only had to cancel two of the 18 flying displays."
For safety and security reasons a major road in the city, Oystermouth Road, was closed from Friday, with concerns it would impact traffic to and from the city's beaches.