Castlemartin inquest: 'No consent' for fatal blast tank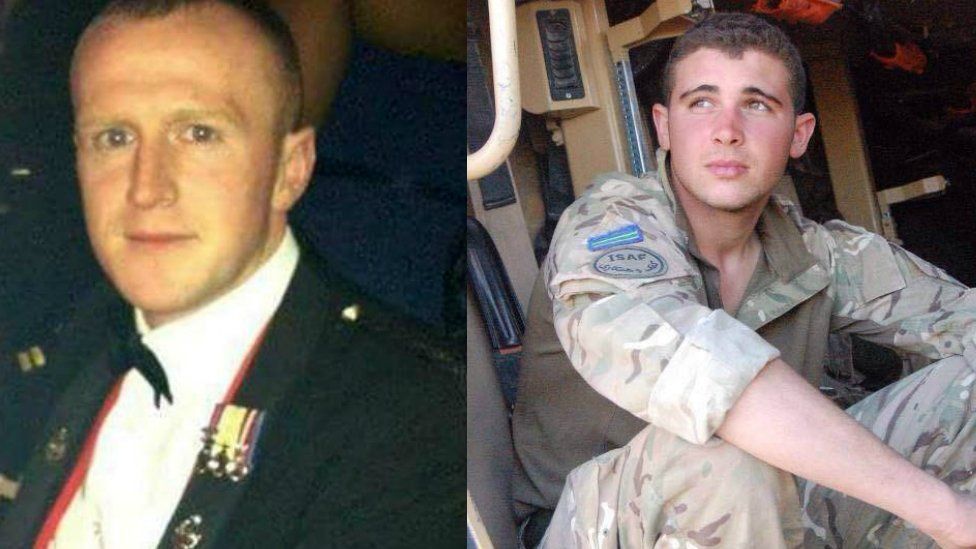 A seal stopping highly explosive gases escaping into a tank crew's turret was not in place before a lethal blast, an inquest has heard.
Royal Tank Regiment corporals Matthew Hatfield, 27, and Darren Neilson, 31, died after the incident at Castlemartin Range, Pembrokeshire, on 14 June 2017.
The inquest heard the pair were only in the tank because they were taking another soldier for a "guest shoot".
Two others injured in the blast survived.
Resuming the inquests on Monday, Senior Coroner for Birmingham and Solihull Louise Hunt said a crew of four, including the two deceased, took the tank to the British Army range's firing point without written permission.
It had been used by another team for an annual crew test but a piece of equipment fitted to the rear of the tank barrel, called the bolt vent axial (BVA), had been removed for cleaning.
Police investigators said its removal was standard practice, as it required post-firing inspection, and it was placed in a box within the tank turret called the "brew bin".
Evidence was also heard the tank shell's ammunition, known as "bag charges", may have been "incorrectly stowed" outside boxes within the turret.
Det Sgt Matthew Briggs, of Dyfed Powys Police, told the hearing in Solihull: "As there was no BVA, there would be no gas-tight seal and the force of the bag charge would have come back into the turret."
Ms Hunt told the hearing "unusual noises" were heard by witnesses before the explosion.
She read a statement setting out what then happened: "At around 15:30, a hissing sound was heard and noises and smoke.
"Cpl Neilson was seen to be climbing out of the commander's turret and there was an explosion.
"He was projected out the turret, landing some distance away."
The coroner heard evidence the tank had only been taken out because the deputy safety training officer, WO Stuart Lawson, had asked permission to go out and fire a tank.
Maj John Poole, who was in command of Castlemartin Range, told the inquest that according to Ministry of Defence rules in pamphlet 21, it needed "two-star written authorisation" - effectively from a brigadier rank officer - to allow a non-trained soldier into a tank.
WO Lawson and another soldier, Trooper Michael Warren, in the tank were injured, but survived the blast.
Maj Poole said he did not know if the men were trying to "show off to Mr Lawson" or trying to fire the tank "as quickly as possible".
But when asked if he was aware of the practice by other crews, he responded: "Well, we're here because somebody else hasn't stored charges correctly."
The inquest also heard from family members and colleagues of the two men, who described them as "superb" soldiers.
Cpl Hatfield, from Amesbury, Wiltshire, was described as "truly dedicated to the British Army", whose greatest achievement in life was said to have been becoming a father.
He had been in operations in Iraq, Afghanistan and elsewhere during his career.
"To say that his loss has had a massive impact on us is an understatement," his fiancée Jill McBride said.
Cpl Neilson's wife Jemma told the inquest her husband, from Preston, Lancashire, was "Army through and through".
"He adored the Army…he served in Iraq and Afghanistan," she said.
"He was my world, my soul mate and hero. He was an amazing husband and daddy."
Both men served with the Royal Tank Regiment in Tidworth, Wiltshire.
Related Internet Links
The BBC is not responsible for the content of external sites.