Underwater Pembrokeshire-Ireland cable 'for cheaper energy'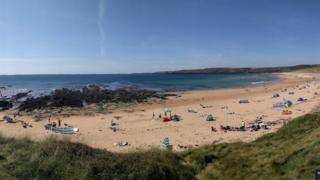 A 125-mile long electricity cable could be installed under the sea between Pembrokeshire and County Wexford in the Republic of Ireland.
The Greenlink Interconnector is designed to share energy between the National Grid and its Irish equivalent.
Planners claim it could help to reduce electricity costs on both sides of the sea.
Greenlink said that effectively plugging one country into another could help with future energy security.
The cable would carry enough power for 380,000 homes.
"Interconnectors have a proven ability to lower prices for consumers at both ends, so in this case there will certainly be a benefit from lower price Irish power," Simon Ludlam, Greenlink project director said.
"Ireland has a significant number of renewable energy sources now, so when the wind blows or the sun shines they can export them at a lower price into the United Kingdom, which will lower prices for Wales."
The project is yet to apply for planning permission, but if successful would become the first of its kind in south Wales, after a similar link between the Republic of Ireland and Shotton in Flintshire six years ago.
The latest interconnector would run from Great Island in County Wexford, under the Irish Sea, before making land again at Freshwater West beach near Pembroke, where it would remain buried underground before reaching a new convertor station nearby.
Dr Norman Macleod, one of the engineers behind the project, said the fact it is due to resurface next to the Ministry of Defence's Castlemartin firing range had not gone unnoticed.
"We lay the cable on the bed of the sea but as we approach the Welsh coast we have to be careful, because of the danger of any unexploded ordnance on the seabed," he added.
"The marine survey we'll carry out will ensure we won't come anywhere near to the firing range, but if we do find any unexploded ordnance we'll have to deal with that. We'll have to get specialist people in to essentially blow it up.
"We take great care to ensure we don't risk any people, ships, or the cable itself."
Those behind the 400m euro (£453m) project hope to apply for planning permission from authorities on both sides of the sea some time early next year.
There are currently four working deep-sea energy cables around the UK, with a further 11 in various stages of planning and construction, including some designed to travel as far as Norway and Iceland.