British backpacker Calvin Hill to return to the UK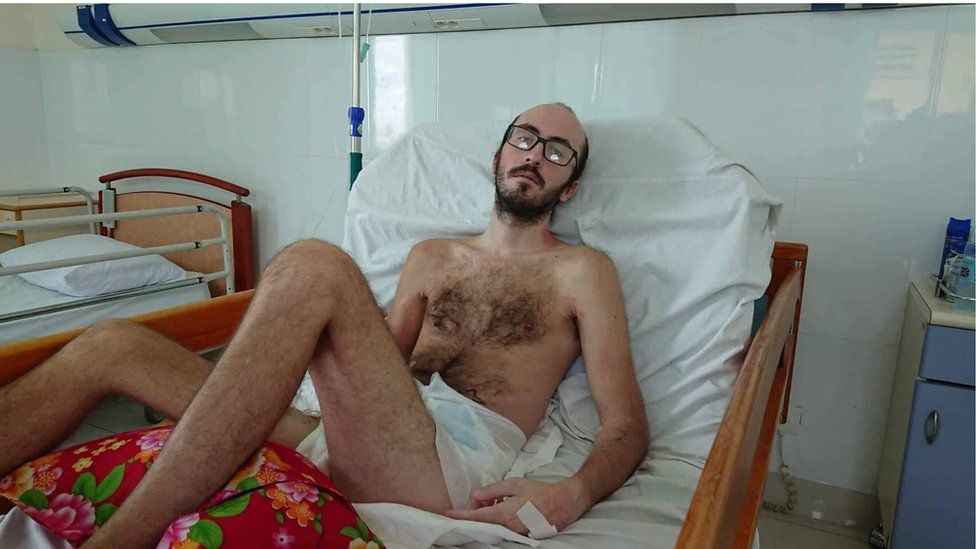 A British backpacker who contracted sepsis after being bitten by a mosquito will return home after more than two months in hospital overseas.
Calvin Hill, 27, from Ammanford, Carmarthenshire, will return to the UK early next week, 12 weeks after being admitted to hospital in Cambodia.
Earlier this month, he was transferred to Thailand for further treatment before making his way home.
His mother Tracey says the family is "absolutely delighted."
Mr Hill was transported to Thailand by medic plane, more than two months after developing sepsis from the mosquito bite.
He was found by roommates in a hostel, unconscious and "not breathing properly", three days before he was due home.
He spent two weeks in a coma, with doctors telling his family to expect the worst.
Despite doctors' predictions, he came out of the coma and is now able to talk and move his limbs, but is half of his original weight and has a hole in his foot.
During his time abroad, Mr Hill's family have spent more than £8,000 on flights, hotel stays and extending his visa after it ran out.
His insurer Flexicover said it did not want to put Mr Hill at any "unnecessary risk", which is why he was not flown home earlier.
A spokeswoman said: "We completely understand that this is a distressing time for both Mr Hill and his family. We have been working hard to arrange repatriation back to the UK, however, this is not an overnight task and takes time to ensure all measures are in place for his safe return.
"We can confirm that his return to the UK has been planned for early next week."
"We have travel and aviation medical specialists on our team who work to ensure our customers get the best medical outcome and we would never make decisions that would cause harm to our customers, their safety is our priority."