Swansea East MP Carolyn Harris' employee in pay rise fraud trial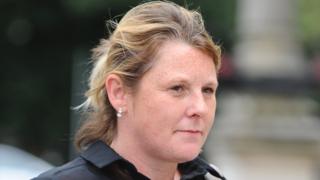 An MP's office manager faked her boss's signature to give herself a pay rise and reduce her hours, a court heard.
Jenny Lee Clarke, 42, allegedly upped her pay by £2,000 to £39,000 and went from 40 to 37-and-a-half hours a week.
It is claimed she forged Swansea East MP Carolyn Harris' signature on an Independent Parliamentary Standards Authority (Ipsa) form in 2015.
Mrs Harris said a pay rise "was never discussed" but Ms Clarke denies forgery and fraud at Cardiff Crown Court.
The court heard that Ipsa, the body responsible for payroll in parliament, sent an email to Mrs Harris, who is also the deputy leader of Welsh Labour, confirming the change of contract.
It was marked: "FAO MP only" and specified as confidential.
It is alleged the defendant, from Swansea, logged into the MP's account and replied: "Yes, this is correct."
South Wales Police were informed and Clarke, of Penllergaer, Swansea, was arrested in July 2016.
A jury of eight men and four women was told the alleged offences came to light after Ms Clarke was demoted because one of her duties, reconciling Mrs Harris' parliamentary credit card, had not been done, leading to it being suspended by Ipsa.
David Lloyd took over managing finances and examined staff reports detailing hours and salary.
The court heard in January 2016, he accessed the staff reports and sent them to Mrs Harris, who replied: "Looks like Jen gave herself a pay rise".
The form submitted by Ms Clarke was retrieved, showing the increase of salary and decrease in hours to be applied from July 2015.
It was signed by Mrs Harris and dated 8 August that year, jurors were told.
"Carolyn Harris says she hadn't seen this form before - she hadn't seen it, she hadn't signed it, that isn't her signature," prosecutor Jim Davis told the jury.
The court heard Ms Clarke told police that Mrs Harris asked her to submit a form to Ipsa to change another employee's contract.
She said Mrs Harris told her: "While you're at it, give yourself a couple of thousand extra" and authorised the reduction in her working hours.
But Mr Davis told the jury: "We say Jenny Clarke made the changes. She forged Carolyn Harris's signature on the form.
"She then, we say, intercepted the email from pay roll to Carolyn Harris and replied to it herself."
The trial continues.