UK heatwave dries up water supplies in Llandeilo, residents say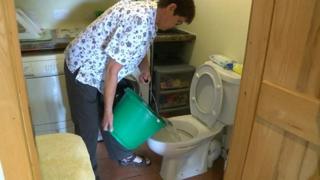 Some people relying on private water supplies in rural Carmarthenshire say they ran out of drinking water weeks ago due to the dry weather.
Households around Llandeilo have been relying on bottled water since wells and boreholes dried up.
Resident Helen Rees said: "We haven't showered or washed at home since June. But the real issue for us is flushing the toilet."
Carmarthenshire council said people affected could get in touch for help.
Ms Rees' home is usually supplied with water from a well in her garden but it started to run out in June.
"We had to start buying in drinking water and trying to find solutions for our normal day-to-day basic sanitary needs," she said.
"We fill up buckets of water and we only flush the toilet with those buckets of water, maybe once or twice a day."
About 1% of the population of England and Wales use a private water supply, according to Welsh Water, and they do not have to pay a water company for it.
Welsh Water said it was providing bottled water for councils to "distribute to customers whose private water supplies are currently affected".
Carmarthenshire County Council said anyone whose private drinking water source has dried up should get in touch for advice, with drinking water available at pick-up points.
A spokesman said leisure centres also allow people to use showers, washbasins and toilets for a £2 charge, although it called on neighbours or family on mains supply to help people.
Farmers Geoff and Sue Freeman are draining a pond to provide their 200 sheep with water after their two wells dried up, and are relying on the goodwill of family and friends to bathe.
Mr Freeman said: "You feel uncomfortable being in their house because you are actually dirty and that is not a very pleasant feeling."
He also explained how a neighbour with three children had to temporarily leave due to a water shortage.
"When the water is diminishing all the time it concentrates your mind," he said, explaining how he and his wife are rationing water to 10 litres a day for their use.
Regarding his livestock, he said he was "worried about the sheep and the stress they are under" as the hot and dry weather continued.