Fraud accused says Carolyn Harris MP used gay slur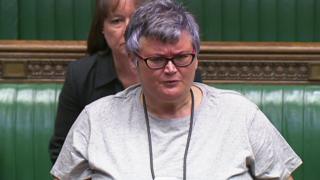 A woman accused of fraud while working as an aide for a senior MP has claimed she was called a "dyke" by her boss.
Jenny Lee Clarke also claimed Swansea East MP Carolyn Harris pulled her hair while she worked as her office manager.
Mrs Harris told Cardiff Crown Court she "didn't remember" using the word, but if she had it would have been "office banter" and denied assaulting her.
Ms Clarke, 42, of Penllergaer, Swansea, is accused of increasing her wages by £2,000 but denies fraud and forgery.
She allegedly bumped up her wages from £37,000 to £39,000 per year and reduced her hours from 40 to 37 and a half hours a week by faking the signature of Labour MP Mrs Harris on an Independent Parliamentary Standards Authority form in 2015.
The court heard Mrs Harris, 57, said to Ms Clarke "look at your dyke boots" after finding out she was gay.
But giving evidence, the MP said she was "no homophobe" and "an ally of the LGBT community".
Stephen Donnelly, defending Ms Clarke, asked Mrs Harris if the term dyke was an "appropriate word in a work environment".
She told the court: "Probably not. But Jenny used it herself."
Mr Donnelly accused Mrs Harris of "outing" Ms Clarke to colleagues when she had confided that she was gay but Mrs Harris responded she had not needed to "out" her sexuality as "it was quite obvious".
He went on: "You shook her so violently that you pulled clumps of hair out."
The MP replied: "I wouldn't have shaken her head. This is really distressing to suggest such a thing."
She added: "We had a good friendship. I did her a good many favours including giving her a television, a car, holidays in my caravan - it was a mutually beneficial friendship."
She described a "lovely atmosphere" in the office and said staff would laugh together and talk about "anything and everything".
The trial continues.