Swansea University's £450m bay campus in land grab row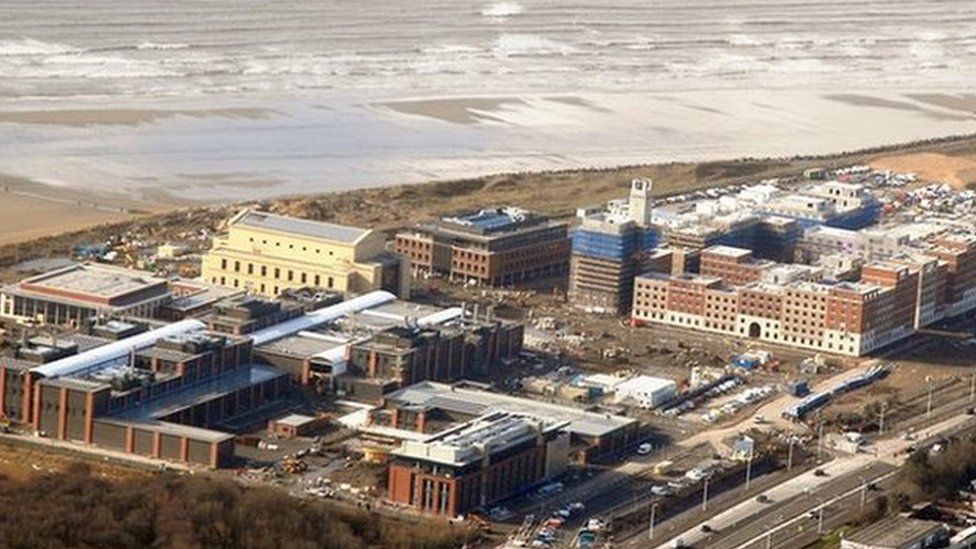 A £450m university campus and a nearby Amazon depot are at the centre of a tug-of-war between two councils.
Currently, the two are in Neath Port Talbot but Swansea wants to bring them into its city area.
The move follows a review of electoral wards by the local authority and will be discussed by councillors on Thursday.
However, a Neath Port Talbot council spokesman described the claims as "invalid".
The proposal to incorporate Swansea University's bay campus and the online shopping firm's warehouse within the city's boundary came about following a review of Swansea's electoral wards.
Officers have given their thoughts on the St Thomas ward, which covers the SA1 development, Port Tennant and St Thomas.
In a report going before council, they said the boundary with the neighbouring authority was not clear and "can easily be clarified by some simple tweaks in the area of Crymlyn Burrows and the Swansea University Bay Campus".
It said a new line should run from the roundabout east of the Amazon depot.
A Swansea University spokeswoman was not aware of the proposal but said the entire bay campus is in Neath Port Talbot.
However, she added the expanding phase two will cross into Swansea.
Currently, Swansea has 72 councillors representing 36 wards and while Gower, for example, has one, densely-populated areas such as Sketty and Morriston have five each.
Other suggestions include hiving off a Clydach property to Neath Port Talbot, and re-shaping some wards to account for population growth and other factors.
However, councillor Helen Ceri Clarke, who represents the Coedffranc West ward where the bay campus currently sits, said: "That does not make any logical sense to me.
"When it was all factories, they (Swansea) didn't want it then."
A Neath Port Talbot council spokesman said: "The proposals made by Swansea council are invalid and will not be considered by the Local Democracy and Boundary Commission for Wales, as the commission itself has confirmed to us."
Related Internet Links
The BBC is not responsible for the content of external sites.