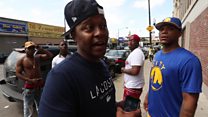 Video
Chicago killings: 'It's like crates of guns got dropped off'
Killings in Chicago have hit a 20-year high as the grim toll for homicides in the city passed 500.
Rapper Bo Deal is a member of a gang and has spent time in prison - but even he's shocked by the scale of the violence.
"I've never seen so many guns", he told the BBC's Ian Pannell for the digital documentary The Lost Streets of Chicago.
Camera/director: Darren Conway; video editor: David Botti; assistant producer Gabriella O'Donnell; aerial photography Phil Jorden; executive producers Jacky Martens and Ben Bevington