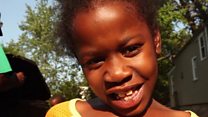 Video
Chicago killings: 'Her intestines were gushing out'
Killings in Chicago have hit a 20-year high as the grim toll for homicides in the city passed 500.
Most of the victims - and killers - are young black men. But there are also innocent victims who just happen to live in neighbourhoods plagued by guns and gangs.
The BBC's Ian Pannell spoke to the mother of a six-year-old girl who was wounded by a stray bullet fired in a drive-by shooting near her house.
Camera/director: Darren Conway; video editor: David Botti; assistant producer Gabriella O'Donnell; aerial photography Phil Jorden; executive producers Jacky Martens and Ben Bevington