Media player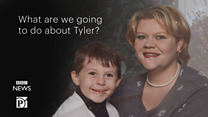 Media playback is unsupported on your device
Video
Scandal of US teen locked up without trial
Tyler Haire was locked up at 16. A judge ordered that he undergo a mental health assessment. This is the story of a teenager who spent almost four years without trial in a Mississippi jail, with no visit from a psychiatrist.
This report is a collaboration between the BBC and ProPublica. Read their in-depth investigation here.
Reporting by Sarah Smith; Video by Olivia Lace-Evans and Nadia Sussman.