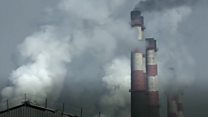 Video
Pollution devastating industrial Russian city
From a smouldering open pit coalmine to a trash heap the size of the Sochi Olympic Park, millions of Russian residents in Central Russia's Chelyabinsk region are living amidst jaw-dropping amounts of pollution.
During WWII, this formerly closed city began producing weapons-grade plutonium and saw an overall spike in industrial production.
But today, despite three major Soviet Era accidents and waterways still poisoned by nuclear waste, the population remains.
Though statistics are unclear, doctors report that cancer is on a dramatic rise and nose and lung infections are common for all.
BBC Pop Up was asked to cover this story by one of it's viewers. The travelling video journalism unit was in Russia in early autumn.
Send your ideas and comments via Twitter using #bbcpopup or email bbcpopup@bbc.co.uk.
Learn more about BBC Pop Up here.
Video by Matt Danzico, Emma Wells and Maxim Lomakin
Go to next video: Putin dismisses MH17 evidence