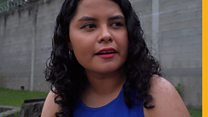 Video
'Prostitutes saved me from sex work'
On 8th March, 2017 a fire engulfed part of the Virgen de la Asuncion children's home on the outskirts of Guatemala City. 41 teenaged girls died.
The home was supposed to be a refuge for troubled children – orphans, those affected by abuse, or entangled in Guatemala's burgeoning gang culture. But the story that emerged after the fire revealed a child protection crisis of epic proportions.
Suyapa Milian lived at the home for more than a year when she was a teenager. This is her story.
Follow the links to watch and listen to more of BBC Our World and BBC World Service's investigation into the fire
Go to next video: Flypast for WW2 bomber-crash crew