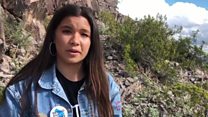 Video
'How climate change and pollution threaten me'
People from around the world spoke to the BBC ahead of global protests highlighting the impact of pollution and climate change.
In countries including Kenya, Bangladesh, Spain, Italy and the United States, they described the impact of environmental change on their own doorsteps.
It comes as students demonstrate in towns and cities in around 100 countries as part of the Youth Strike 4 Climate movement.
Climate change is expected to increase the frequency of extreme weather events - though linking any single event to global warming is complicated.
Poorer countries, which are least equipped to deal with rapid change, are among the most vulnerable.
Read more: Children's climate change strike spreads worldwide
Go to next video: Will it be third time lucky for Joe Biden?