'Disturbing epidemic' in US and Mexico
The US has all but ceased to use asbestos, but the number of deaths from mesothelioma is only now reaching its peak, due to the disease's long latency period.
Mexican industry came later to asbestos, beginning to use it intensively only in the 1970s. It has not banned the use of white asbestos, and at least one expert says the country is on the verge of an epidemic of asbestos-related deaths.
Jim Morris in Washington DC and Ana Avila in Mexico City filed reports for the ICIJ.
Read excerpts below and follow the links to read the full stories.
Washington
The first sign of trouble came as Bill Rogers was mowing his lawn one morning in January 2007.
"As I would go back and forth with the mower, I would run out of air," says Mr Rogers, 67, of Palm Bay, Florida.
Mr Rogers went to the doctor and learned that his right lung was full of fluid. Three days later, he was diagnosed with mesothelioma, a lethal tumour that occurs in the lining of the chest or the abdomen and is almost always associated with asbestos exposure.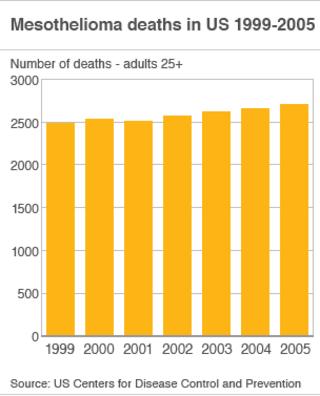 He is among hundreds of former mechanics and body shop employees known to have developed mesothelioma after working on brakes, most of which contained white asbestos well into the 1990s.
Many have sued auto manufacturers and parts makers, litigation that reflects the unceasing burden of asbestos disease in the United States.
Asbestos has decimated the ranks of miners, millers, factory workers, insulators and shipyard workers, some of whom began filing workers' compensation claims as far back as the 1930s.
The modern era of asbestos lawsuits began in the 1970s with claims from these same groups of workers. Many took in massive doses of fibre and died of diseases such as asbestosis, which can develop within a decade of initial exposure. Some of the cases involved mixtures of amosite, or brown, asbestos - which is no longer used - and chrysotile.
In court now, aside from a few heavily exposed claimants, are mechanics, teachers from asbestos-filled schools, and wives and children of workers who brought home asbestos on their clothing. Most of these people had relatively light exposures and developed mesothelioma, a disease that can take 30, 40 or even 50 years to appear.
Read Jim Morris' full story at ICIJ
Mexico City
Nearly 2,000 companies in Mexico use white asbestos in an array of products - including brakes, boilers, roofing, pipes and wires - which are sold throughout the hemisphere.
The country ramped up asbestos imports in the 1970s, largely from Canada. Today its manufacturers buy most of their supplies from Canada and Brazil. According to the country's Economy Secretariat, 1,881 companies use raw asbestos. These companies employ 8,000 people, the National Workers Confederation says.
The "controlled use" of asbestos in Mexico is promoted by Luis Cejudo Alva, who has overseen the trade group Instituto Mexicano de Fibro Industrias (IMFI), for 40 years. In the 1990s, he says, IMFI members agreed to stop selling asbestos to factories without adequate safety measures. This led to some plant closures.
But Dr Guadalupe Aguilar Madrid, a physician and researcher with the Mexican Social Security Institute, which oversees public health under the federal Secretariat of Health, says that the country's weak worker protection laws have allowed dangerous conditions to proliferate and the human costs are going to rise sharply.
"The epidemic can grow like it grew in the countries that started to work with asbestos after the Second World War," says Dr Aguilar.
She predicts that the annual death toll from mesothelioma, asbestosis, and asbestos-related lung cancer could reach 3,000 to 5,000, up from the current 1,500, and stresses that the epidemic won't stop until the country bans asbestos.