Wikileaks row is the last thing Nato needs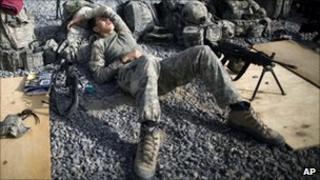 In what has been called Nato's crucial year in Afghanistan, the sudden, unauthorised publication of thousands of revealing military and intelligence documents is just about the last thing the alliance needs.
To those of us in the media who have been following the twists and turns of the Afghan conflict, there are few great surprises contained in the 91,000 documents.
Even some of the material classified as "Secret" (the second highest classification after "Top Secret") is not, in reality, particularly sensitive, and of course all of it is at least seven months old.
Some of the documents, while authentic as official intelligence reports, can be dismissed as clearly wrong or unfounded.
But that is not the point. Taken together, the Wikileaks documents give the general public a remarkable insight into a war that - at least up until December 2009 - now appears to have been going worse than we were told.
The issue of civilian casualties has been one of the biggest bones of contention between Nato and the Afghan government.
When US General Stanley McChrystal took over command of coalition forces in Afghanistan last year he put "protecting the civilian population" right at the top of his priorities.
This was in recognition of the fact that killing civilians is not only morally unacceptable but is also a sure-fire way to boost Taliban propaganda and recruiting.
On the ground it has translated into a policy known as "courageous restraint", meaning holding off ordering airstrikes on buildings or locations where Taliban gunfire is coming from unless commanders on the ground - who can be as junior as a corporal - can be absolutely certain no civilians would be harmed.
Inevitably this has given rise to grumbles among soldiers that they are taking more casualties of their own.
But the Wikileaks documents give disturbing and authentic details of previously unpublished events where Nato actions have inadvertently resulted in Afghan civilian casualties.
These include an RAF Harrier airstrike, separate incidents involving French and US troops, and a mortar attack by Polish forces that hit a wedding party.
According to human rights groups the number of civilians killed by Nato is vastly outnumbered by the number killed by the Taliban but as one senior Nato general put it to me this year "even one civilian casualty is unacceptable, it can never be justified".
The details regarding Pakistan's alleged support for the Taliban are harder to substantiate.
Again, the reports are authentic but their content is shaky to say the least. Afghanistan and Pakistan's respective intelligence agencies have a deep mutual distrust.
So those reports that paint the ISI, the Pakistani agency, in a damning light and which are based on information provided by the NDS, their Afghan counterparts, need to be treated with a degree of scepticism.
Still, they do provide further fodder for those convinced the ISI never really cut its links with the Afghan Taliban, an organisation it openly nurtured from 1994-2001.
Among the Pakistani military and intelligence community, the perceived long-term strategic threat comes not from the jihadists but from India.
There are therefore many who are keen to keep open links to a proxy militia in Afghanistan for the day when Nato eventually leaves that country.
'Unglossed' war
The revelations about Taskforce 373 are more embarrassing.
This covert operations unit is something both its operatives and senior commanders would far rather not see publicised.
Their mission, put simply, is to "remove" key insurgent commanders from the battlefield. This means acting on human intelligence, or tip-offs, and intercepted communications to locate them and try to capture them alive.
In practice many are not prepared to surrender so a gun battle ensues in which the insurgents often come off worse, their commander is killed but sometimes so too are a number of civilians sheltering nearby.
So what difference will the release of these documents make, if any, to Nato operations in Afghanistan?
"None", said William Hague, the UK Foreign Secretary, on Monday when asked about the possible effect on British troops.
But that may prove optimistic.
The public - if it cares to read the documents - is now offered a far more revealing and unglossed version of the ugly nature of war in Afghanistan and it is unlikely to welcome what it sees.
The patience of electorates on both sides of the Atlantic with this increasingly unpopular conflict has just been shortened by another notch.