Is 'Grandpa Wen' as nice as he seems?
By Michael Bristow
BBC News, Beijing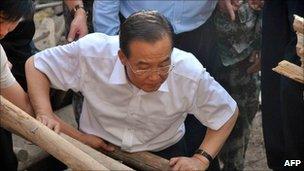 Chinese Premier Wen Jiabao stood shoulder to shoulder with rescuers as they searched for survivors at the scene of a recent landslide in Gansu province.
Dressed in casual clothes and wearing an expression of concern, he spoke words of encouragement to residents trapped beneath the rubble of their collapsed homes.
"Folks, hold on - we're trying to pull you out," he shouted in the direction of where two people were thought to be still alive.
This is not the first time Mr Wen has visited a disaster or shown sympathy with ordinary people struggling to adapt to a rapidly changing society.
He has consoled the elderly, sympathised with stranded travellers and shed public tears.
It has allowed the premier to become perhaps the country's favourite politician. He is seen as a man of the people and known affectionately as Grandpa Wen.
But not everyone believes this image to be a true reflection of the premier's character.
The title of a new book by Chinese writer Yu Jie leaves little doubt about the views of its author. It is entitled China's Best Actor: Wen Jiabao.
Mr Yu contends that Mr Wen's frequent visits to the scenes of disaster are just a show of concern; he does not support the policies that would really show he cares.
"[Chinese President] Hu Jintao's personality is steady and cold. He likes to give orders from behind the scenes. Acting is not his strong point," reads one extract from the book.
"Wen Jiabao makes up for his shortage. He likes to be down mines, visiting farmhouses, crying his heart out," it goes on.
Mr Yu believes the premier is acting, only showing he cares so people will maintain their trust in the government.
The 37-year-old writer is not alone in these views, but he is certainly in the minority in China, as a selection of online comments following the premier's visit to the landslide reveal.
"If we had more people like Grandpa Wen in China, our country would be more civilised, stronger and richer," said one bowled-over internet user.
"We have no fear when disaster happens because we have such a good premier," said another.
But Mr Yu, who has no special contacts within the higher echelons of the Chinese Communist Party, merely advises readers to consider the facts.
"The policies supported by the premier are very different from his behaviour in front of the media and the public. Sometimes they contradict each other," said the writer in an interview.
Mr Yu, whose book is out on Monday, cites the example of the Sichuan earthquake in 2008.
While visiting Sichuan, Mr Wen promised parents whose children died in their classrooms that they would be told why so many schools collapsed in the earthquake.
But the premier never followed up on that promise, said Mr Yu. Instead, independent researchers who tried to find their own answers to this question have been locked up.
It is difficult to assess the accuracy of the author's viewpoint: Chinese politicians, even Mr Wen, rarely give interviews and those they do tend to focus on policies not image.
But one man who has worked with Mr Wen, former official Bao Tong, who lost his job and was imprisoned after the Tiananmen massacre in 1989, seems to think the premier's concern is genuine.
It is less difficult to work out why Mr Yu's views are in the minority.
Through their control of the media, China's leaders are able to guard their image in a way that would be impossible without censorship.
Authors who reflect a different point of view are not able to publish books in mainland China. The offering about Mr Wen can only be released in Hong Kong, which has more liberal publishing laws.
Many authors, like political activists, are also monitored by the police.
Mr Yu said he often sees security officers outside his home, particularly at sensitive times, such as when China's annual parliamentary session is being held.
When the authorities found out he was planning to publish a book on Mr Wen - the writer revealed it to friends on the social networking site Twitter - he was hauled in for questioning.
Despite the problems, Mr Yu thinks publishing his book is worth the risk. "I think modern citizens in a modern society should have the right to criticise and be suspicious of their leaders.
"The purpose of this book is not only to criticise individuals and the communist system, but also to develop the idea of freedom of speech."