Sailors call for urgent global action to halt piracy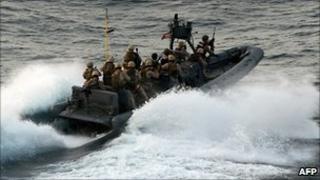 More than 930,000 seafarers have signed a petition calling for immediate global action to bring an end to piracy.
Twelve boxes containing the petition were handed to the UN International Maritime Organisation at its London headquarters.
Shipping is under increasing threat around the world, with attacks off the coast of West Africa and in the Far East.
Somali pirates alone are holding 354 sailors.
The petition was organised by a coalition of groups including unions, ship operators and welfare organisations and presented on World Maritime Day.
The BBC's Martin Plaut says the size of the petition reflects the real anger of sailors around the world, who feel that their plight is ignored by the international community.
Signatories want governments to take immediate steps to secure the release of kidnapped seafarers. They are also calling for "significant resources and concerted efforts to find real solutions to the growing piracy problem".
An international task force was set up in January 2009 to combat piracy in the Gulf of Aden and off the eastern coast of Somalia, covering an area of approximately 1.1 million sq miles.
It's the huge distances which are the problem, according to James Grady. He was an officer onboard the tanker Sirius Star when it was hijacked off the coast of Kenya in November 2008.
"People who don't work at sea just can't imagine the distances that are involved," he told the BBC. "It's millions of sq miles of ocean to cover and you would need hundreds of thousands of warships to be truly effective."
David Cockroft, general secretary of the International Transport Workers Federation (ITF), which represents many sailors, hopes the petition will help to draw attention to the dangers which seafarers face.
But he also concedes that the long-term solution has to be political: "Ultimately we also need to solve the political problems of Somalia to ensure there is no impunity and that people cannot simply hijack ships then when they are arrested be released and free to hijack another ship again in two or three weeks' time."