North Korea talks up Kim Jong-un as likely successor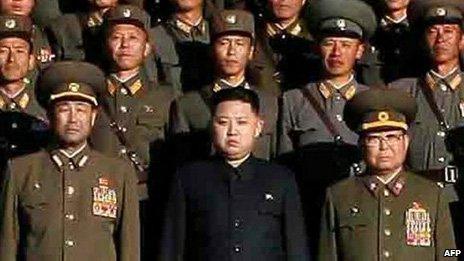 A top North Korean official has made the first public comments that leader Kim Jong-il is likely to be succeeded by his youngest son, Kim Jong-un.
Yang Hyong Sop, a senior official in the ruling Workers' Party, made the comments during an interview with the Associated Press in Pyongyang.
Kim Jong-un was promoted to top political and military positions at a rare party meeting last month.
The younger Kim's succession would cement the family dynasty.
Kim Jong-il, thought to be in poor health, came to power in 1994, following the death of his father, Kim Il-sung.
Kim Il-sung founded the nation of North Korea in 1948 on policy of self-reliance, and built a cult of personality around him and his son.
Speaking at the start of celebrations to mark the 65th anniversary of the Workers' Party on Sunday, Mr Yang said: "Our people take pride in the fact that they are blessed with great leaders from generation to generation.
"Our people are honoured to be led by the great president Kim Il-sung and the great general Kim Jong-il. Now we also have the honour of being led by General Kim Jong-un," he said.
Little is known about Kim Jong-un, other than he is thought to be about 27 years old and was educated in Switzerland.
The world had its first up-to-date glimpse of the young man last month when state media published a photograph and video footage of him at the party's first congress for 30 years.
At the ceremony in Pyongyang, Kim Jong-un was made vice-chairman of the Central Military Commission of the Workers' Party and was appointed to its central committee.
He was also given the rank of a four-star general.
These promotions have added to the intense international speculation that the younger Kim is being groomed to succeed his father.
Pyongyang is holding three days of celebrations to mark the 65th anniversary of the Workers' Party.
Officials say they will be biggest of their kind in the nation's history.
The ceremonies are expected to include a firework display on Friday evening, and culminate in a huge military parade in Kim Il-sung Square on Sunday.