The joy of train travel: From New Zealand to London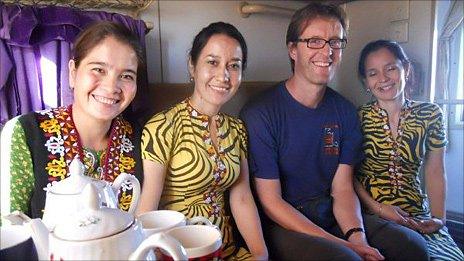 International train travel has always had a romantic appeal, whether it's nostalgia for the age of steam, the thrill of a scenic mountain railway, or just the pleasure of watching the world go by and making friends with fellow travellers.
For longer journeys, most travellers nowadays shun rail in favour of air - few want to spend 36 hours on a journey that can be done in four.
But there are still plenty of good reasons to go by train. The joy of "slow travel" is that you see how the landscape changes - plus, you avoid the enormous carbon emissions that flying entails.
This year, I spent more than two months on a trip from Wellington, New Zealand to London, UK. I took only two short flights over water, and almost all of my overland journeys were by rail.
From my railway carriage, I saw the Australian outback, the slums of Bangkok, the stunning coastline of central Vietnam, the mountains of China's Gansu province (sandwiched between Mongolia and the Tibetan plateau) the Kara-Kum desert of Central Asia, Georgia's decaying rural towns and the hills of eastern Turkey.
What was most striking was how varied these experiences were - a million miles from the uniformity of air travel.
In Australia and New Zealand, a journey by long-distance train is something like a tour bus, with quirky announcements along the way and even stops for sightseeing.
"Great Southern Railway can boast some of the finest staff in the business. Unfortunately none of them are on this train," quipped the guard on the Overland from Melbourne to Adelaide.
Just as well they have a sense of humour - this day's travel across endless flat agricultural land is probably one of the most boring railway journeys on earth.
The twice-weekly Ghan, between Adelaide and Darwin, is not quite so mind-numbing. It has two four-hour stops for sightseeing in Alice Springs and the Katherine Gorge, to break up the hours of semi-desert in between.
New Zealand's long-distance trains are also infrequent, and often slow. There are just three trains per week in winter between the two main cities, Wellington and Auckland.
Sometimes part of the Sunday service is replaced by a steam train - great for enthusiasts, but not helpful for time-challenged business travellers.
That said, it's one of the world's great scenic journeys, with views on a good day over the North Island Volcanic Plateau, one of the dramatic locations used in the Lord of the Rings films.
Chinese rail journeys could not be more different. They usually involve huge numbers of people being moved around over huge distances as often and in as short a time as possible. Queuing for tickets can be a nightmare, and there's always a danger of overcrowding.
I tried to book sleeper tickets from Beijing to the western city of Urumqi 10 days before departure, but they had already sold out, so I was forced to sit in a non-reclining seat for the whole 40-hour journey.
For the first 24 hours, the carriage was so packed that people were sleeping in the aisles and even on the wash-basins at the end.
On the second night, I managed to grab a couple of hours' kip by lying under the table next to my seat.
I had another largely sleepless night in Vietnam. My seat would not recline because I was at the back of the carriage, but the passenger in front was able to recline until the headrest was within inches of my face.
Into this small space a guard kept leaning, in order to hold different-coloured lanterns up to the window - like a smuggler in days gone by sending signals to his accomplices.
In the former Soviet Union the sleeping conditions may be slightly better, but it's definitely the poor man's mode of transport, with painfully slow trains. One journey I took in Turkmenistan took 22 hours, while the same trip by road would take only six.
It would be unfair to say that Asian trains are always crowded or uncomfortable, though. Thailand has got perhaps some of the best sleeper bunks in the world - lengthwise down the carriage and so much less cramped than other trains - and an attendant to bring you meals and sort out your bedding arrangements for you.
On most of my first train journey in China, from the Vietnamese border to Beijing, I had a luxury four-berth compartment to myself. The train was busy, but maybe people didn't want to share with a foreigner?
Of course, travelling internationally by train throws up obstacles the air passenger doesn't have to think about.
Between Singapore and the European Union I crossed 12 borders, most by train. Most of the countries I entered require you to get a visa in advance, but you're still guaranteed a certain level of hassle when you arrive.
This usually means getting out of the train, whatever the time of day or night, with all your luggage, just to have your passport stamped.
In China and the former Soviet Union, though, expect the border guards and customs officers to come to you. They rarely bother Westerners, but don't be surprised if they open up the ceiling of your compartment looking for contraband or confiscate your neighbour's suitcase full of Barbie dolls.
The prize for the most arduous border on my route was won by the crossing from China to Kazakhstan. Between them they managed to hold the train for six hours - for two hours of border formalities on the Chinese side and two on the Kazakh side.
The Kazakhs were particularly thorough (though unfailingly polite), sending legions of troops and officials down the train. Their particular obsession was fruit or vegetables, which they were determined to prevent entering the country.
For another two hours I sampled the anaemic delights of the desolate border settlement of Dostyk while they changed the wheels on the train to fit the broader gauge of the former Soviet Union (1.52m compared to the 1.435m used in China and most of Europe).
Another problem with all these stops is that they often make the trains late. I can only remember two trains outside Europe that actually arrived on time, or even within an hour of their scheduled arrival.
But for many ardent travellers there are rewards to train travel which outweigh any inconveniences.
Trains have to be the best means of travel for meeting people, whether it's other long-distance travellers or locals.
That overcrowded Chinese rail journey was also, paradoxically, my favourite.
I was lucky enough to find an English speaker (rare in China) sitting opposite me, who helped me converse with the rest of the carriage.
I became Loberto for a few hours, and even managed to win a game of cards, without having the faintest idea what I was doing.
A man sitting opposite coyly expressed the desire to drink a bottle of whisky with me. I declined as politely as I could, but we shared a beer.
It was the kind of communal event that must be almost an everyday occurrence for most Chinese, when strangers are in close proximity for a prolonged period and get to see each other warts and all. But for me it was fascinating to see this good-humoured familiarity.
On a journey in Turkmenistan, news soon got around that there was a Westerner in the carriage and people just came along to have a look. I was plied with a whole variety of local dishes and gallons of green tea. One man said he would always remember that moment.
Train restaurants in this part of the world are poor to non-existent, and most people take food with them to share with their travelling companions. Another way to break the ice.
And that's what it's all about - you never know what to expect or who you're going to meet.
Related Internet Links
The BBC is not responsible for the content of external sites.