Iceland looks for a silver lining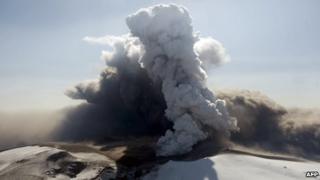 Iceland's President Olafur Ragnar Grimsson is searching for a silver lining to the clouds of 2010.
"Of course we have had better years," he begins.
Something of an understatement perhaps, given the volcanic eruption at Eyjafjallajokull which spouted an ash cloud 5km (3m) high into into the sky, causing havoc across European airspace.
And the fact that Iceland is having to inch its way out of one of the most dramatic financial collapses of recent times, in the wake of the banking crisis at the end of 2008.
"But 2010 has been a much better year for Iceland than most people expected," says the president in an interview with BBC World Service.
Going on the principle that any publicity is good publicity, he points out that at least the ash cloud put Iceland on the map.
To back this up, he cites a couple of anecdotes.
First, a meeting with China's Prime Minister a couple of months ago.
"Prime Minister Wen Jiabao opened the meeting by saying that the eruption had made almost every person in China strongly interested in Iceland."
Not bad for a country with a tiny population of just 330,000 people.
The president goes on to describe a meeting he had with a couple from New York, whilst out horse-riding.
He was stunned to discover that they had travelled all the way from the US to Iceland, just for the weekend.
Indeed, according to the president, the ash cloud "created such a tremendous interest in the beauty and the contrast of Icelandic nature, that this year has been one our best tourism years ever."
Economists would more likely point to the sharp devaluation of Iceland's currency, the krona, as an explanation - this has made it a much cheaper, and therefore more attractive, place for foreign visitors.
'Forces of nature'
As to that now famous volcano - with a very tricky name - that has stopped erupting.
But you can never rest easy, "Iceland is very much alive in geological terms," says the president.
The ash cloud from Eyjafjallajokull cost the international airline industry $1.8bn (£1.2bn, 1.4bn euros) and also hit Iceland's economy.
But, just as important from an Icelandic perspective, was the welfare of its farmers in the vicinity, many of whom have been working the land there for generations.
And again the president is upbeat: "Throughout the summer, we saw the green grass coming out of the ash fields.
Farmers are regaining their strength, and animals are coming back to the farms.
So life is becoming normal again, despite our struggle with the forces of nature."
His own year has been a busy one, with trips to China, India and Russia.
"There are many good news stories in this country," insists the president.
"Our economy is in better shape and exports have exceeded imports."
Unemployment in Iceland currently stands at around 7% - lower than many European countries, though several times higher than before the downturn.
But most recent growth figures for Iceland give some cause for cautious optimism - a few weeks ago it recorded its first quarterly growth since the banking crash.