Young UK man seeks roots amid the terror risks of Yemen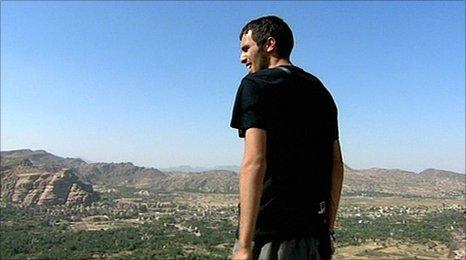 I recently went on the most nerve-racking journey of my life to visit family in Yemen - the country often referred to as the new frontline of the war on terror.
I am 21 and live in Sheffield with my mum and dad. My mum is from Yemen and I would call myself a British Muslim, a "steel city Yemeni" as we like to call ourselves nowadays. We are Yemenis with a Yorkshire accent - simple as that.
For years now, I've wanted to visit Yemen. I was last there when I was three but I have grown up feeling as Yemeni as I do British.
My family were really worried about my trip. My sister kept having visions that I would be kidnapped - which was a real possibility. Al-Qaeda is active in Yemen and Brits and other Westerners are prime targets.
I landed in Aden, Yemen's second city.
My first impressions were heat, humidity and poverty. Babies were sleeping on the streets with their mums - it was horrible to see.
Walking around the streets I stood out like a sore thumb in my Western clothes.
I could sense hostility in the air, people didn't like the camera crew and I soon realised why I needed the security that had been given to me as part of making a film about my trip.
I even had to get an OK from my security adviser to travel to visit my family.
It was emotional seeing my nan for the first time in four years and meeting other family members for the first time.
As I talked with my nan, I found out something about my family background.
She revealed that she had been 10-years-old when she got pregnant with my mum and 11 when she had her. I couldn't believe it when she told me, it really shocked me.
My granddad was only a few years older, but they ended up staying together for 40 years and were really happy.
It did end up working for them but I still think it's wrong. It's children bringing up children.
The law in Yemen says that a girl must be 15 to marry, but it's frequently ignored. I also met a 13-year-old girl who had been forced to get married to settle her dad's debt.
She seemed to me to be so physically traumatised by men that she couldn't look me in the eye. She is now trying to get a divorce.
Meeting a 19-year-old cousin for the first time turned my whole trip upside down.
He has a bullet lodged in his head and his family say he is dying a slow death. He badly needs an operation but they can't afford it.
For his own protection, I will not name him here, but he told me he was shot by Yemeni security forces during a protest about power cuts.
It made me feel helpless but I've told him and his family not to worry and that I'm going to raise the money for him for an operation.
I met a number of people who said they've suffered for speaking out about what life can be like in Yemen.
It made me realise how comfortable we have it in England.
Living where I live the police stop you in the street and you do get harassed but it's nothing. Here though I was told that if you say the wrong thing you could disappear.
After meeting those people our security adviser told us we were being followed by the secret police, which was really unnerving.
Another group of people I will never forget meeting is survivors of the 2009 al-Majala air strike.
According to the government, the intended target was a group of al-Qaeda terrorists. But those who were killed were ordinary people in the community of sheep farmers, including 35 women and children.
I was told that the Yemeni government was not acting alone. The people here believe these missiles were American.
I met some of the survivors and they showed me pictures and told me stories that were so shocking I was physically shaking. I admit I can see why people might want to join al-Qaeda having seen things like that.
I feel the world should know about al-Majala - everyone knows about 9/11 and 7/7 but who knows about this?
We had to have a police escort to drive to the capital, Sanaa, as it's so dangerous.
In the last two years, two major international terrorist plots have originated here - an attempt to blow up a plane using explosives hidden in underpants and a failed attack using bombs hidden in cargo loaded on a plane.
I visited the outgoing British Ambassador, Tim Torlot, who told me how he was almost killed by a suicide bomber last year.
He says the British won't be leaving Yemen because the risks of leaving are even bigger than the risks of staying.
But just days after I met him, the British diplomatic convoy was attacked again - this time, with a rocket-propelled grenade.
No-one was killed but suddenly the atmosphere in Sanaa turned on a knife-edge.
I had to stay in my hotel for my own safety, some of the embassies told their people to leave the country, and flights into Yemen were suspended. It was really scary. I knew it was time to go.
My trip to Yemen was life-changing. The suffering of the Yemeni people has made a big impression on me. It's drawn me closer to my religion and I want to be a better Muslim.
It's changed my view on what it means to be Yemeni but also what it means to be British. If my mum had stayed there and I had been born there my life - and my views - would have been so very different.
There are so many things that Yemen doesn't seem to me to have, just basic human rights. That's why I am proud to be British and live in this country. To be honest, I've realised how glad I am that I live in England.
Back home my parents have agreed to meet the costs of getting my cousin to the UK for an operation but because the British Embassy is still closed following the grenade attack, he has not been able to get the travel papers he needs.