What happened to Budhia Singh, India's marathon boy?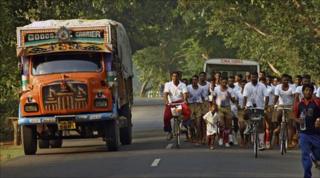 Budhia Singh, a boy from the slums of India, became an overnight celebrity for running marathons from the age of three - but in the last five years his story has developed in ways no-one could have foreseen.
Six years ago, a colleague of mine sent me a link to a story on the BBC News website.
It was on a very small boy from the slums of India, who was running huge distances on a daily basis. It was both astonishing and profoundly unsettling.
I have run upwards of a dozen marathons and could not fathom how such a small boy would possess the necessary stamina or resistance, quite apart from any ethical considerations.
There was a small part of Biranchi Das, the boy's coach, that reminded me of my own adoptive father, who took in a rag-tag band of eight unwanted kids from diverse Hindu, Sikh and Muslim backgrounds, and gave them a stable upbringing.
It was my personal circumstance that also drew me to other characters in the story.
Similar to Budhia's mum, my birth-mother belonged to the lowest Hindu caste and lived in extreme poverty.
But a twist of fate led me to be adopted by a couple in England, and I lived an entirely different life filled with possibility.
Dreams or nightmare?
In 2005, I managed to locate three-year-old Budhia.
I arrived just before dawn, wondering if anything more than a disturbing freak show would be in store.
It was still dark but I could just make out his tiny legs swinging beneath a bench in what would become his trademark red pumps - they did not even make trainers his size.
The moment I started to approach, Budhia leapt up onto the bench and started to perform this giddy song and dance for me while simultaneously making the victory sign with both hands.
I was horrified at this little marionette show laid on for me and urged my translator to tell Budhia that he was not required to perform for me.
Looking at Budhia in those first few moments, I did not know if his story would turn out to be the stuff of Bollywood dreams or a child's nightmare. It turned out to be both.
Broken dreams
Budhia's rollercoaster journey transforms from an uplifting tale of hope and opportunity to one of greed, corruption and broken dreams.
It is a story of adults fighting a self-serving tug-of-war over a small boy - and it is about a child who is trying to remain whole amid the turmoil.
No clear heroes or villains emerge, but it raises large questions.
Did Biranchi Das truly love Budhia or was he in it for the glory? Is sport or any pursuit of stardom an appropriate way out of poverty, and at what expense? Who has the right to define abuse?
Does the government have more right over someone who is a product of their failed policies?
What's the vested interest of a state in one child when there are hundreds of thousands of children on their watch living in great social misery?
Budhia now
Today, Budhia is a boarding pupil at a government-run sports hostel in Orissa State.
He has been assigned a new coach, though he is no longer required to run the distances he ran before and his weekly schedule includes hockey, discus and football.
I asked his new coach if he sees Budhia becoming a running champion: "Now is not the right time to say if he can make it, but if you come back in 10 years time I will tell you!"
Budhia has also been awarded a government scholarship to one of Bhubaneswar's most prestigious English Medium Schools.
A peon's child destined to caste-bound misery is now mingling and learning among his country's elite.
On his first day, Budhia addressed the entire school: "I am Budhia Singh. You will all be my friends and in return I will help you learn how to run!"
He recently won the egg and spoon race in his first school sports day.
Long-term effects
It is difficult to gain a full sense of how Budhia is processing the events in his life and the long-term impact.
The last time I saw him he seemed brooding and insular. He would stare down a lot. He said nothing. I said nothing.
Questions seemed to put him under enormous pressure and I did not want that.
Instead, we held hands and listened to the other children laughing and creating a din outside.
On the last occasion that I saw Biranchi Das he told me: "Budhia is a very good child. He and I had a dream. It was not fulfilled. That is the agony for me.
"In Russia, Korea and China, they start training athletes at the age of three. If you don't take risks you don't get results. I am the person who took risks with Budhia, and I got results."
Perhaps some people would say that Budhia has been released from the man who enslaved him, but for this small boy, he's lost the only loving advocate and mentor he ever had.
Ultimately, what I hope the viewer is left with, in my film, is a touching look at the affectionate but complex relationship between a guru and his disciple.