Iran helicopters: Spain holds eight over 'illegal sale'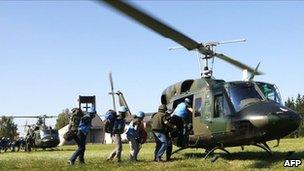 Spanish police say they have prevented the illegal sale of nine military transport helicopters to Iran and have detained eight people.
The operation, which took place in Madrid and Barcelona, led to the arrests of five Spanish businessmen and three Iranian nationals, reports say.
As well as the Bell-212 helicopters, police also found spare parts for export to Venezuela, police said.
Iran is banned from buying attack helicopters under UN sanctions.
The five Spanish businessmen are suspected of trying to export the US-made aircraft, while the three Iranians are accused of negotiating the purchase of military material, the AFP news agency reports.
As part of Operation Nam, police raided industrial sites in Madrid and Barcelona where they found the helicopters, reports say.
The total value of the helicopters and spares was 100m euros ($140m), they said.
The helicopters, which are used to transport troops and military equipment, and spares were being prepared for assembly and disassembly before export to Iran and Venezuela, police said.
"They tried to protect the export sale, which could have resulted in revenue of about 100m euros, under the cover of legal aviation repairs," the statement said.
Police said they found out about the arrival in Spain of the Iranian purchasers who had come to formalise the deal which led to their operation being launched.
The Spanish companies said to be involved are accused of ignoring export requirements by failing to obtain licences for the export of military material for goods that could have military applications, police said.
Under UN sanctions adopted last year, Iran is banned from buying heavy weapons such as attack helicopters and missiles.