South Sudan: Salva Kiir says no to war with north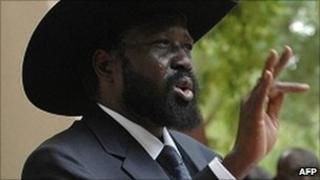 South Sudan's leader Salva Kiir has said he will not lead his people back into conflict with the north over the disputed region of Abyei.
The region, seized by northern troops at the weekend, is also claimed by South Sudan, which is due to become independent from the north in July.
"We will not go back to war, it will not happen," Mr Kiir said in his first public statement since trouble began.
Analysts fear the dispute could reignite the north-south conflict.
A peace deal in 2005 ended 22 years of civil war in which some 1.5 million people died.
The status of Abyei was left undecided and a referendum, due last January, on whether the area should be part of the north or south has been postponed indefinitely.
'Massing troops'
In a national address, Mr Kiir said the south had "fought enough" and that it was time for peace.
He described the north's invasion of Abyei as an over-reaction, and said the area would eventually be reclaimed by the south.
Sudan's President Omar al-Bashir has refused to withdraw his troops from the region, despite UN condemnation of the move.
Earlier, a southern minister in the national government resigned, saying "war crimes" had been committed in the disputed Abyei region.
The Satellite Sentinel Project has released satellite images of burnt huts and says they provide evidence of war crimes.
The project's spokesman Jonathan Hutson said other troop movements in the north were also a cause for concern.
"Satellite Sentinel Project has identified Sudan armed forces, those of the northern armies, massing near the contested border area of Abyei with heavy armour and artillery and tanks at a place called El Obeid - there's a barracks there," he told the BBC's World Today programme.
"They could reach Sudan's north-south border or Abyei town in less than a day without refuelling."
Aid workers say some 40,000 people have fled the fighting around Abyei - mostly southerners, heading further south.
"Tens of thousands have been displaced - the villages that they've left behind have been systematically razed," Mr Huston said.
David Deng Bol, manager of Mayardit FM radio station in Turalei, about 75km (45 miles) south of Abyei, told the BBC more than 25,000 people had arrived in that area in the last few days.
Many were camping under trees and in the rush to leave some families had been split up and children were missing, he said.
"The situation of the IDPs [internally displaced people] is very very bad. They sleep outside being affected by the rain, the places are cold, there's no food, no water or no medication," he told the BBC's Focus on Africa programme.
Meanwhile, the UN has said it believes militiamen from the Misseriya ethnic group were responsible for shooting at one of its helicopters on Wednesday.
The Misseriya are northern nomads and one of two groups to claim Abyei, along with the southern Dinka Ngok people.
They were armed by Khartoum and used to attack the south during the civil war.
Reports suggest many Misseriya have arrived in Abyei town since the northern armed forces took control of it on Saturday, accusations denied by one nomad leader as "nonsense".
Under the 2005 peace agreement, Abyei was granted special status and a joint administration was set up in 2008 to run the area until a referendum decided its fate.
Both Sudan and the South are reliant on their oil revenues, which account for 98% of South Sudan's budget. But the two countries cannot agree how to divide the oil wealth of the former united state. Some 75% of the oil lies in the South but all the pipelines run north. It is feared that disputes over oil could lead the two neighbours to return to war.
Although they were united for many years, the two Sudans were always very different. The great divide is visible even from space, as this Nasa satellite image shows. The northern states are a blanket of desert, broken only by the fertile Nile corridor. South Sudan is covered by green swathes of grassland, swamps and tropical forest.
Sudan's arid north is mainly home to Arabic-speaking Muslims. But in South Sudan there is no dominant culture. The Dinkas and the Nuers are the largest of more than 200 ethnic groups, each with its own languages and traditional beliefs, alongside Christianity and Islam.
The health inequalities in Sudan are illustrated by infant mortality rates. In South Sudan, one in 10 children die before their first birthday. Whereas in the more developed northern states, such as Gezira and White Nile, half of those children would be expected to survive.
The gulf in water resources between north and south is stark. In Khartoum, River Nile, and Gezira states, two-thirds of people have access to piped drinking water and pit latrines. In the south, boreholes and unprotected wells are the main drinking sources. More than 80% of southerners have no toilet facilities whatsoever.
Throughout the two Sudans, access to primary school education is strongly linked to household earnings. In the poorest parts of the south, less than 1% of children finish primary school. Whereas in the wealthier north, up to 50% of children complete primary level education.
Conflict and poverty are the main causes of food insecurity in both countries. In Sudan, many of the residents of war-affected Darfur and the border states of Blue Nile and South Kordofan, depend on food aid. The UN said about 2.8m people in South Sudan would require food aid in 2013. The northern states tend to be wealthier, more urbanised and less reliant on agriculture.