UN Security Council backs second term for Ban Ki-moon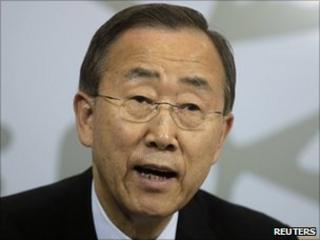 The UN Security Council has unanimously recommended Secretary General Ban Ki-moon for a second five-year term.
Mr Ban told reporters in Brazil that he was "deeply honoured" by the decision of the 15-member body and "grateful for the confidence and support".
But he also said he was aware of the "formidable challenges ahead".
With no rival for the post, the former South Korean foreign minister is almost certain to be re-elected when the UN General Assembly meets on Tuesday.
The 67 year old has been criticised for being too deferential to major powers and for being too timid to confront human rights abusers.
But he has won praise for his commitment to climate change, nuclear disarmament and women's issues, and for his encouragement of the pro-democracy protests which have swept the Middle East and North Africa.
'Motivated and prepared'
The Security Council's decision to endorse Mr Ban's candidacy came after a one-day delay reportedly because of procedural and technical hold-ups caused by some Latin American and Caribbean countries.
Some envoys said their governments did not want to vote until Mr Ban had finished his visit to the region, others said they had not yet seen Mr Ban's letter seeking another term, and some expressed regret that there was only one candidate, one UN official told the Associated Press.
Mr Ban had already secured the crucial backing of the five veto-holding members of the Security Council - the US, UK, France, Russia and China.
In a statement issued while he was in Brasilia, Mr Ban said: "It's an immense privilege to serve this great organisation as secretary general, and I am grateful for the confidence and support."
"I am proud of all we have done together, even as I am aware of formidable challenges ahead," he said.
"In the 21st Century, the United Nations matters in a different and deeper way," he added.
"I am motivated and prepared to continue our work together with the member states, upholding the principles enshrined in the [UN] charter."