One crewman recovered, five missing in sinking off north Wales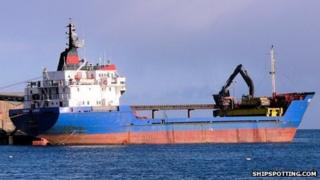 Rescuers searching for six Russian seamen missing after a cargo vessel sank off north Wales in gale force weather say one crew member has been recovered.
The man's condition has not been confirmed. Five crew from the 81-metre (265ft) Swanland are still missing.
Two other rescued crew rescued earlier have been taken to hospital in Bangor.
Prince William, who is a search and rescue helicopter co-pilot at RAF Valley, took part in the rescue.
The carrier, with 3,000 tonnes of limestone onboard, disappeared 30 miles north-west off the Lleyn peninsula.
Two RNLI lifeboats, with four search and rescue helicopters and two commercial boats, are Ship rescuers recover one crewmansearching for the remaining five crew.
The Swanland's crew raised the alarm at about 02:00 GMT.
They reported the hull was thought to have cracked in bad weather and the ship was taking on water.
One liferaft has been found near Bardsey island off the Lleyn peninsula, but it was empty.
The ship was carrying rock that was loaded at the Llanddulas jetty near Abergele and was en route to Cowes on the Isle of Wight. The Swanland regularly visits the area.
Holyhead coastguard, who are co-ordinating the rescue, said they were very concerned for the missing men.
Jim Green, from the station, said: "We are very concerned for the safety of the other six crew members."
"We know that at least some of them are wearing immersion suits and have strobe lighting with them, however sea conditions are challenging at best," he added.
Jo Groenenberg, also from Holyhead coastguard, said weather and sea conditions are difficult, with gale force eight winds.
She said the sea temperature at this time of year would be about 14 to 15 Celsius.
Floating debris
"And, of course, the rescuers have been searching since two o'clock, it's been very dark overnight, so that's made it more difficult as well."
The coastguard sent out a mayday relay and several vessels responded and went to the scene to assist.
When the vessels arrived, they found two liferafts and some floating debris.
One helicopter from RAF Valley on Anglesey and another from Dublin Coastguard arrived at the scene, as well as RNLI lifeboats from Pwllheli and Porthdinllaen.
Two people who were clinging to liferafts were rescued and airlifted to RAF Valley on Anglesey.
RAF Valley has confirmed Prince William, serving as Flt Lt William Wales, was the co-pilot of the helicopter which rescued the two survivors from the Swanland during the night.
There are currently four helicopters taking part in the search for the missing crew members - two from RAF Valley, one from RAF Chivenor and one from Ireland.
Porthdinllaen RNLI spokesman Dylan Thomas said its volunteer lifeboat crew had found two empty inflatable liferafts and a lot of debris when they arrived at the scene early on Sunday.
"The conditions now it's daylight are better. It's better visibility and the sea state is slightly calmer. The wind's gone down a bit," he said.
Lizard peninsula
He added: "Some strobe lights have been found by the rescue helicopter and an emergency position beacon has been located.
"There is numerous bits of debris over a large area."
In August 2010, the Swanland's engines failed and it came close to grounding on rocks off the Lizard peninsula in Cornwall.
According to one shipspotting website, the vessel was built in the Netherlands and is owned by a company, Torbulk, in Grimsby.
Managers, who have met at the office to discuss the incident, told the BBC they will not be making any comment until later on Sunday.