Wikileaks suspect Bradley Manning 'should be tried'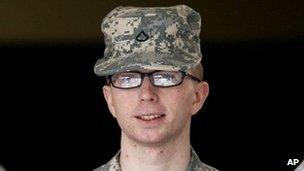 The US Army analyst suspected of passing classified information to Wikileaks should face a court martial, a military tribunal has recommended.
Intelligence analyst Bradley Manning is alleged to have leaked US government cables to the whistle-blowing website.
Accused of leaking thousands of documents and "aiding the enemy", he could face life in prison if convicted.
Pte Manning, 24, appeared for a pre-trial hearing in December, in which prosecutors pushed for a court martial.
He was arrested in May 2010 in connection with the leak.
The US Army said in a statement that the head of the tribunal, Lt Col Paul Almanza, had concluded that "reasonable grounds exist to believe that the accused committed the offences alleged.
"He [Lt Col Almanza] recommended that the charges be referred to a general court martial," the army statement said.
The recommendation from Col Almanza will now be referred up the military chain of command.
The commander of the Washington military district, Maj Gen Michael Linnington, will make a final determination on whether Pte Manning will face military trial.
At a December hearing known as an Article 32 hearing, Pte Manning's defence lawyers argued that the soldier was struggling with personal issues, including his gender identity.
They argued that Pte Manning's superiors should have revoked his access to classified material.
Meanwhile, prosecutors alleged that the soldier, from Crescent, Oklahoma, had communicated directly with Wikileaks founder Julian Assange.
A digital crimes investigator testified that he found thousands of classified documents on a data card owned by Pte Manning.
'Ridiculous and counterproductive'
The documents published by Wikileaks amounted to the biggest leak of classified information in US history.
They included a video of a 2007 helicopter attack in Iraq in which journalists and civilians died, and more than 250,000 classified US diplomatic cables.
A cache of nearly 400,000 documents relating to the war in Iraq, known as "war logs", were also leaked to the anti-secrecy site.
The documents suggested that use of torture was ignored and gave details about thousands of Iraqi civilian deaths.
After his arrest Pte Manning was held at Quantico, a marine jail in the US state of Virginia.
The conditions of his confinement at Quantico drew international concern. His lawyers said he was subjected to 24-hour surveillance and was forced to undress at night and stand naked at roll call.
A top US state department spokesman, PJ Crowley, resigned after saying the military's treatment of the Wikileaks suspect was "ridiculous and counterproductive".
On 20 April 2011, Pte Manning was moved to Fort Leavenworth military prison in the US state of Kansas, where conditions were said to be better.