White House shooter charged with trying to kill Obama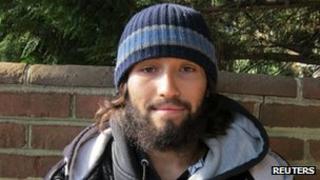 A US man has been formally charged with attempting to assassinate President Barack Obama, after he fired shots at the White House in November.
Oscar Ortega-Hernandez, 21, from the US state of Idaho, faces 17 charges that also include damaging the White House and assault with a dangerous weapon.
He was deemed mentally stable to stand trial and has been held in custody since his arrest.
The president and first lady were in California when the shots were fired.
Mr Ortega-Hernandez was arrested in Pennsylvania days after gunfire was heard at the White House on 11 November.
His defence lawyer has told the Associated Press news agency that Mr Ortega-Hernandez intends to plead not guilty to all the charges.
He could face a potential sentence of up to life in prison if convicted.
Personal mission
In a preliminary hearing in December, a judge ordered that he be held without bail.
Law enforcement officials said Mr Ortega-Hernandez appeared to believe he had been sent on a personal mission from God to attack the White House.
They had no reason to suspect he was affiliated with a radical organisation, they added.
Federal prosecutors have asked that Mr Ortega-Hernandez undergo further psychiatric tests to ensure he can be held legally liable.
After the gunshots were fired, officials found two bullets on the south side of the executive mansion, the part of the building where the president's bedroom is located.
One bullet broke a "historic" outside pane of glass but was stopped by a protective inner panel of ballistic glass. The second bullet hit the exterior of the building.
Mr Ortega-Hernandez's family had reported him missing on 31 October, days before the incident. It is thought that he was living in the Washington DC area.
He has previously been arrested in the US states of Texas, Utah and Idaho. He was charged formally before a grand jury in Washington DC.