Four arrests after raids on homes of suspected gang members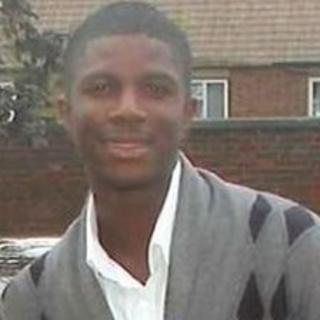 Four male youths have been arrested in south London after police carried out raids following a series of gang-related stabbings.
Homes of suspected gang members were raided in Lambeth during the morning.
It follows the murder of 17-year-old Kwame Ofosu-Asare in Brixton on Friday, Scotland Yard said.
Police are examining if it was linked to seven other stabbings - all in the same area of London - which happened within eight days of each other.
The male youths, aged 14, 16, 19 and 23, were arrested for conspiracy to commit grievous bodily harm and have been taken to south London police stations where they remain in custody.
They have not been arrested in connection with the murder of Kwame Ofosu-Asare, police said.
'Mindless violence'
The raids were carried out as part of the force's work to help prevent further violence.
Kwame was found on Friday evening with stabs wounds in Adelaide Close, Moorlands Estate, Brixton. Police said he, along with a friend, were chased by two knifemen.
Officers are investigating if the killing is linked to another stabbing on Friday when a 17-year-old boy was attacked outside Norwood bus garage, West Norwood, at 13:00 GMT.
The attacks follow five gang-related street attacks across Lambeth which happened on 25 February.
Commander Steve Rodhouse, of the force's specialist crime and operations directorate, said the raids signalled a clear message that "mindless violence" would not be tolerated.
"Our priority is to find out what has happened, bring those responsible to justice and prevent any further incidents in the coming days and weeks.
"We will continue to aggressively pursue any lawful opportunities against those who choose to become involved in violent crime, so that we can protect potential future victims, the community and the wider public."