Mali coup: ICC to consider allegations of atrocities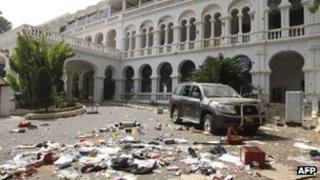 The International Criminal Court has warned it may investigate allegations of atrocities committed in Mali since violence erupted there in January.
Prosecutors are assessing reports of killings, rapes and of conscripting child soldiers allegedly carried out in the rebel-held north.
Tuareg separatists and their Islamist allies exploited the chaos created by a military coup in March to grab control of much of the desert region.
Civilian rule has since been restored.
Deteriorating human rights
The ICC said they would consider claims from several sources, including senior UN officials, before deciding whether or not to to open a war crimes investigation.
UN human rights chief Navi Pillay has said that she is "concerned that the longer the instability continued, the more the human rights situation appeared to be deteriorating, with thousands of people already fleeing the northern region to seek refuge in neighbouring countries."
Last week, medical charity Medecins Sans Frontieres said there had been a huge rise in people fleeing the northern region because of the presence of armed groups and Mali's political uncertainty.
There are two main groups behind the rebellion in Mali: The secular National Movement for the Liberation of Azawad (MNLA) and Ansar Dine, an Islamist group that has started to impose Sharia in some towns.
The MNLA is made up partly of Tuareg who had fought in Libya on the side of Col Muammar Gaddafi and returned to Mali after he was killed.
They complain they have been ignored by the authorities in the capital, Bamako.
Despite the junta handing back power to civilian rule on 12 April, political tensions also remain in the south of the country - and last week ousted President Amadou Toumani Toure fled to neighbouring Senegal after several of his political allies had been arrested by the army.
They were released - but correspondents say Mr Toure had clearly thought it prudent to get as far away as possible from Mali's soldiers, who have previously threatened to arrest him and who seem to still be a force behind the scenes.