Taylor verdict: Liberians and Sierra Leoneans react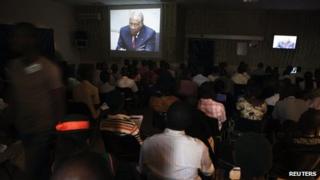 There have been contrasting reactions to Charles Taylor's conviction for aiding an abetting war crimes in the two countries most closely associated in the case.
As the BBC's correspondents in the region reflect, Taylor is a divisive figure.
In Sierra Leone, where thousands were caught up in a vicious civil war, and where forces loyal to Taylor carried out widespread abuses of human rights, there was satisfaction.
But in Liberia, where Taylor ruled until he was deposed nine years ago, there were some angry scenes.
Mark Doyle in Freetown, Sierra Leone
Several hundred people watched the verdict in the courtrooms of the Special Court for Sierra Leone in Freetown.
When they filed out afterwards there was a look of quiet, even sombre satisfaction on their faces.
It was such a long and complex judgement - over two hours - that there was no sudden reaction.
On the video screens, Judge Richard Lussick appeared to mumble slightly over the word "guilty" and several Sierra Leoneans in the audience looked at each other quizzically for a moment - but they then realised it was the verdict they wanted.
"Today I am happy," said Jusu Jarkar, a victim of the rebels who had both of his hands cut off during their reign of terror.
"I am happy that Taylor is found guilty," he added, "and I am also happy because tomorrow [Friday] is my country's independence day," he said, jabbing the air with his prosthetic arms for emphasis.
The satisfaction of the people watching the verdict here has been a long time coming. The war raged through the 1990s and officially ended in 2002, when the then President, Ahmad Tejan Kabbah, memorably said in the Krio language, "war don don" - "the war is over".
There had been little doubt in the minds of most Sierra Leoneans that Mr Taylor would be found guilty.
They felt there was so much obvious circumstantial evidence pointing to his links with the rebels that "guilty" was the only possible outcome.
I lived through much of the war myself as well, and there were so many events that would not have made sense unless Mr Taylor had, at the very least, been deeply involved with the Revolutionary United Front (RUF) rebels.
Dead eyes
Much was made by the judges, for example of the "guesthouse", in the Liberian capital Monrovia, that they said Mr Taylor had provided for the RUF, and used to facilitate arms and diamond deals.
I visited the same guesthouse in the late 1990s and interviewed RUF commanders. It was obviously some sort of informal military facility because it was full of rebel fighters - they were in civilian clothes and claimed to me to be "workers" but their military boots and dead eyes were easy to spot.
The war in Sierra Leone also started on the Liberian border. Everyone here knew Liberia subsequently provided a safe haven for the rebels - the military movements I tracked over the years would not have made sense otherwise.
And I also once discovered secret Sierra Leone police intelligence files which detailed the passage of arms and personnel in Liberia and this country.
There has been surprise in some circles that the judges didn't agree with the prosecution's case that Mr Taylor had "command and control" over the rebels.
But anyone who has lived in West Africa knows that military orders in rebel wars here are rarely recorded. So proving direct commands was never going to be easy.
Leaders in these parts "let it be known" what they want through word of mouth. There would have been few official minutes taken, for example, in the meetings Mr Taylor had with the late battlefield commander of the RUF, Sam "Mosquito" Bockarie.
So the judges settled for the verdict that Mr Taylor "aided and abetted" the rebels instead.
Jonathan Paye-Layleh in Monrovia, Liberia
An atmosphere of hope and high expectation suddenly turned gloomy and sombre in most of Monrovia after the passing of the highly anticipated verdict.
Eager youths, who had gathered all morning to listen to a live broadcast of the trial became angry, saying Taylor had been cheated.
They brandished pro-Taylor placards with slogans such as "Leave Taylor - let him come back home, he's not guilty".
The ex-president's immediate relatives share similar sentiments.
"The trial is a political trial, I did not expect fair play," Arthur Saye, the former president's brother-in-law told the BBC immediately after the ruling, saying this was the work of "the West."
"All of us, including Mr Taylor, were prepared for any eventuality, and we are going to appeal."
Dozens of motorcyclists on Monrovia's streets who had been sounding their horns in support of Taylor, became silent when news of the verdict began to spread.
But a well known Charles Taylor critic and newspaper publisher, Tom Kamara, hailed the judgement, saying "justice has been done" and that the verdict marked "an end to impunity".
During a live radio appearance Mr Kamara became emotional and speechless, and then wept.
He was in exile while Taylor ruled Liberia, and only returned when he was forced from power in 2003.
'Kangaroo court'
During the same radio programme, Senator Sando Johnson, a close ally of the Taylor family, called the UN-backed war crimes tribunal "a Kangaroo court."
"Now that the will of the Americans and the British has been done, we can only call on our people to remain calm," Mr Johnson said, before swearing at Mr Kamara.
Before the verdict, a group of young men paraded on the mainly Tubman Boulevard with a presidential portrait of Charles Taylor chanting slogans.
One man, Jura Sanoe, appeared at the media hub with a small anti-Taylor poster which read: "Taylor is guilty".
He was booed and jeered and had to be escorted away by police.
Apart from security concerns, some Liberians who are celebrating Taylor's conviction may be wary of openly celebrating at the humbling of a former national president in case they are accused of being unpatriotic.