Irish people are resilient, President Higgins tells US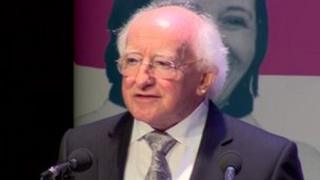 The Irish President, Michael D Higgins, has said Irish people are "hurting from the recession" but insisted that they remained "strong and resilient".
He made the remarks at a reception for the Irish community in New York on Monday, during his first visit to the United States as president of Ireland.
Mr Higgins said Irish people were angered by the collapse of the economy which had led to high unemployment.
However, he said they were "for the most part, moving on".
The Republic of Ireland was a high-profile casualty of the property crash and banking crisis, and in 2010 it received a bailout totalling 85bn euros from the European Union (EU) and International Monetary Fund (IMF).
'Betrayed'
The president said Irish people were "dismayed that the transient, artificially-based, property-based economic bubble, itself within a global economic recession based on speculation, has turned into ashes.
"They have a righteous anger that various institutions and individuals, betrayed the trust placed in them."
However, he said that his countrymen would not allow themselves "to sink into any disabling cynicism or fatalism"
"People are setting about finding a better version of Irishness than the acquisitive individualism that drove the worst aspects of the Celtic Tiger," Mr Higgins said.
He also pointed out that the Republic of Ireland was home to over 50% of the world's leading financial services firms and nine of the top 10 global pharmaceuticals corporations.
During the five-day trip, Mr Higgins will visit the memorial at the World Trade Centre site to pay tribute to the victims of 9/11.
He will also visit New York's memorial to victims of the Irish famine in Battery Park.