Honduran radio journalist Alfredo Villatoro kidnapped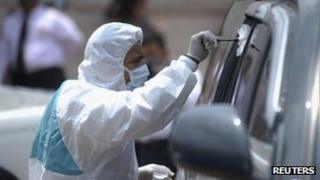 A senior journalist for a major radio station in Honduras has been kidnapped.
HRN radio's news manager Alfredo Villatoro was abducted on his way to work in the capital, Tegucigalpa, on Wednesday morning.
Mr Villatoro had reported receiving death threats.
Honduras has the world's highest murder rate and pressure groups say journalists face a growing risk amid a rise in drug trafficking and organised crime.
Mr Villatoro's abduction comes just days after the disappearance and subsequent death of journalist and gay rights campaigner Erick Martinez.
Mr Martinez's body was found by the roadside in the village of Guasculile, north of Tegucigalpa.
Local media quoted police as saying Mr Martinez's body showed signs of strangulation.
Dangerous profession
Honduran President Porfirio Lobo said he was praying for a positive outcome to Mr Villatoro's ordeal.
Without giving further details, HRN radio said Mr Villatoro's captors had been in contact with his family to confirm they were holding him.
Police have arrested three suspects in connection with Mr Villatoro's abduction.
In 2009, another journalist with HRN was abducted and held for 18 days.
It is not clear what the motive behind his kidnapping was, or if ransom was paid in exchange for his release.
According to rights groups, more than 20 journalists have been killed in Honduras since 2009 when the military helped to overthrow Mr Zelaya.
It has not been established if all the murders were work-related.