Pakistan blast: 'Many dead' at Quetta religious school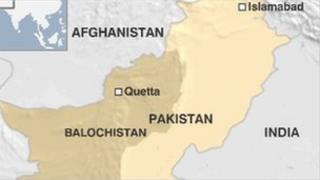 At least eight people have been killed - including children - in a blast outside a religious school in Quetta, Pakistan, officials say.
A bomb was detonated outside the school as a degree ceremony for students was being held inside, a senior policeman has told reporters.
According to local media, the bomb was strapped to a bicycle left by the school gates.
At least 20 others have been injured, hospital sources say.
Local police say hundreds of students were gathered inside the Jamia Islamia Maftah-ul-Uloom madrassa in the Sariab area of the city when the bomb went off.
A doctor at the hospital told news agency AFP that three boys, aged seven, nine and 14 were among the dead. Five men were killed.
A police official told the agency that the device had been detonated by remote control.
There has been no claim of responsibility.
Afghan and Western officials have in the past said the Taliban have used Quetta, the capital of Balochistan province, as a major hideout.
Ethnic Baloch militants demanding more autonomy and a greater share of natural resources are also active there.
The so-called Quetta Shura leadership of the Taliban, alleged by the US to direct much of the insurgent activity in Afghanistan, is said to be based in the city.
But Pakistani authorities have denied the existence of such a Taliban council in Quetta - or that the Taliban have a major presence in Balochistan.