Uganda athletes anger at Happy Science Olympic mix-up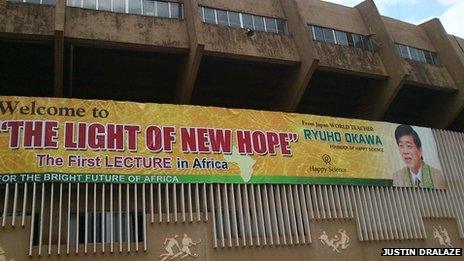 Ugandan track event athletes have blamed their failure to qualify for the Olympics on the inferior track they were forced to use for time trials.
These were supposed to be held at the national stadium but a double booking meant they had to make way for a Japanese Happy Science religious rally.
The Uganda Athletics Federation said had they been at the stadium, at least five athletes could have qualified.
"It means we have to wait for another four years," one sprinter told the BBC.
The BBC's Catherine Byaruhanga in the capital, Kampala, says there is a feeling that Happy Science's money enabled them to get the venue over the athletics meeting.
But Brian Rycroft from Happy Science told the BBC the new age group had booked the stadium for their event on Saturday through a third party and did not know about the confusion.
Our reporter says the Olympic time trials for hundreds of athletes had to be held on Friday at Makerere University, where the track is uneven and does not have precision timing equipment.
A few of Uganda's runners will get another chance to qualify at the African Athletics Championships in Benin next week, but for many it is the end of road, our reporter says.
"I feel bad because I would have qualified as I was close to the time," Okiror Anthony, a 400m runner, said.
Saturday's rally at the Namboole Stadium is Happy Science's first major rally in Africa and thousands turned up for the event.
The group has also come in for criticism from various Ugandan religious leaders, our correspondent says.
Some evangelical pastors in Kampala have even called Happy Science a cult.
But Mr Rycroft said the accusations were unfounded and the group was an "open organisation".
"People are welcome to join us from whatever background race or religion. And they're free to leave anytime too if they don't want to stay in Happy Science."
Related Internet Links
The BBC is not responsible for the content of external sites.