Alps avalanche: Dead British climbers named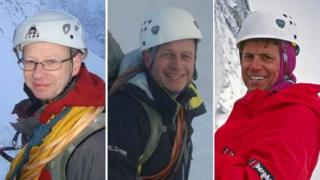 Two British climbers from the same North Yorkshire village have been named as among those killed in an avalanche in the French Alps.
John Taylor, 48, and Steve Barber, 47, from Upper Poppleton, west of York, were among nine people who died on Mont Maudit, near Chamonix, on Thursday.
They were climbing to raise money for St Leonard's Hospice.
A third Briton killed in the avalanche was named on Thursday evening as 55-year-old seasoned climber Roger Payne.
Mr Payne, originally from Hammersmith, west London, was a former general secretary of the British Mountaineering Council (BMC) and had been acting as a mountain guide.
The three Britons had been part of a 28-strong group traversing Mont Maudit before dawn in an attempt to reach the summit of Mont Blanc.
According to the Prefecture de la Haute-Savoie, two people from Spain, three Germans and one Swiss were the others killed in the avalanche.
A church service is to be held in Chamonix on Saturday in memory of the dead climbers, French Interior Minister Manuel Valls said.
The partners of Mr Taylor and Mr Barber paid tribute in statements issued through the police.
Karine Taylor, wife of Manchester-born John, said she and their two children were devastated by the loss. She described him as a "highly respected climber".
"John always had a keen interest in outdoor activities taking up mountaineering in 1998, and was a highly regarded and very active member of mountain rescue teams himself.
"John had climbed several challenging mountains across the world, including Mont Blanc on two previous occasions.
"In his personal life, John was a finance director, working within the public and private sectors. He will be sadly missed by his work colleagues," she added.
Mr Barber's long-term partner Donna Rogers said he had lived in the village for most of his life. His parents used to run the village post office.
"He always wanted to climb Mont Blanc, an ambition that this trip was to fulfil.
"He had been training hard for the ascent and had successfully completed several challenging climbs in Europe and in the UK prior to this trip."
Mr Barber's 10-year-old daughter attends the same school as the children of Mr Taylor.
Estelle O'Hara, headteacher at Poppleton Ousebank School, wrote in a letter to parents: "The children have been informed and school staff have been supporting them throughout the day, providing a caring shoulder and answering any questions.
"We understand that the climb was to raise money for St Leonard's Hospice and so we will be collecting on their behalf."
St Leonard's was founded in 1985 in York and provides care for people with life-threatening illnesses.
The party is believed to have been three hours into their climb and had reached 4,000m (13,120ft) when the avalanche struck.
The alarm was sounded at 05:25 local time (04:25 BST) by an injured climber on the route, which is a popular one for people trekking towards Mont Blanc.
It is thought falling ice or climbers themselves set off a slab avalanche, a falling block of snow 150 metres wide.
One of the survivors, who had left a few minutes later, said: "We took the force of the snow but we could still resist, but then big chunks of snow fell on us so we were swept away," he told the BBC.
The French authorities say the avalanche was caused by heavy snow and was triggered by strong winds. They described it as "the most deadly" in recent years.
'Climb to live'
Nine other climbers of French, German and Swiss nationality were airlifted to hospital in Sallanches with minor injuries.
Mont Maudit - meaning the cursed mountain - is the third-highest peak in the Mont Blanc massif range, rising to 4,465m.
Mr Payne has been described as "larger than life" by his friend of 35 years, Alan Hinkes.
The climber told the BBC: "Roger was doing what he wanted to do... he was helping two people to get to the top... he will be sorely missed."
Mr Payne is understood to have been living in Leysin, Switzerland, with New Zealand-born wife Julie-Ann Clyma.
The BMC said about 20,000 people a year climb Mont Blanc, and that the mountain had been deemed "safe to climb" on Thursday.
But according to British mountaineer Kenton Cool, the area was known as something of an avalanche "blackspot".