London 2012: Refereeing scrutinised in losing countries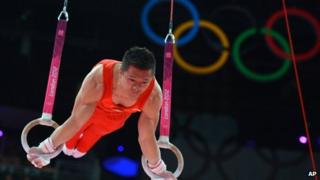 Media outrage at controversial sports refereeing is not unique to the UK. Officiating at London 2012 has been closely scrutinised by media houses in countries whose athletes have found themselves on the wrong end of contentious decisions.
As in the Eurovision song contest, political power plays are often said to sway the judges.
China
Chinese state media was appalled that gymnast Chen Yibing was pipped to gold by just 0.1 points in the individual rings by Brazil's Arthur Zanetti. The morning bulletin on the CCTV channel scrutinised both routines, contrasting Zanetti's "wobbly" landing with Chen's "perfect" performance. A pundit on a Hong Kong broadcast from CCTV said Chen's defeat was linked to foreign jealousy and prejudice against Chinese athletes.
State newspaper the People's Daily ran with the headline "Refereeing spoils Olympic Games" in its domestic edition, while its international edition coined the catchy phrase "referee-gate".
The Sina news portal ran an online poll on the result in which nearly 10,000 respondents selected the option: "Outrage, referee scoring too unfair". Virtually no-one voted in favour of Chen's score.
South Korea
South Korean newspaper The Korea Times said that its athletes had been the biggest victims of questionable officiating at the games, listing results in swimming, fencing and judo, some of which were later overturned. The paper said that organisers had tried to "appease" fencing star Shin Lam with a silver medal after her defeat by the German Britta Heidemann.
The article said that "even amateur athletics have long been influenced by the powers of the nations that athletes belong to in the name of so-called sports diplomacy".
News agency Yonhap agreed that "crucial errors have been concentrated on South Korean athletes".
There was, however, little sympathy for the female badminton doubles pair who were disqualified for throwing their matches. The Korea Times said the pair had "no excuses" for their behaviour.
India
Boxing officiating was also widely discussed in the Indian media following some knife-edge decisions. Screen captions on NDTV reporting Vikas Krishan's defeat by American Errol Spence read: "India cheated out of medal hope", "Clear case of cheating" and "American pressure works".
Other outlets blamed a new scoring system which newspaper DNA said "has left everyone confused".
Another report in the same paper looked towards the forthcoming bout between Mary Kom and Team GB's Nicola Adams, saying: "The general belief among boxers and coaches is that the Brits are 'favoured' by judges and referees alike."
Belarus
Belarusian state TV told viewers that "the list of dubious decisions against Belarusians at the London Olympics is getting longer" after boxer Siarhei Karneyeu failed to reach the semi-finals. A correspondent for the channel said judges had failed to suitably punish his opponent Teymur Mammadov of Azerbaijan for passive boxing.
The report added that "the audience did not hide its sympathy for the Belarusian" after the decision was announced.
Karenyey also voiced his frustration on a social media network, saying: "I did all that could be done!!! We filed a protest and were told: "Who are you? A Belarusian? Goodbye then!!!!!" It is all about politics and money. "
Ukraine
A commentary in the Ukrainian newspaper Ukrayina Moloda also hinted at a bias towards Azerbaijani athletes, saying "in two different disputes involving boxers from Azerbaijan referees made decisions in favour of the athletes from the Caucasus. You cannot help recalling that this country, which is rich in oil, is a financial sponsor of the International Boxing Federation."
The broadsheet Den said that London 2012 will be remembered for the "its numerous scandals that occur almost on a daily basis," often to the detriment of Ukrainian athletes. The article also made reference to European football championships where a goal for the hosts was disallowed in the match against England.
"Perhaps, if Ukraine were an EU member it would be treated in a different way," it concluded.
Ukrainian sports websites were already aggrieved at the perceived injustice which saw British boxer Anthony Ogogo defeat Ukrainian world number one Ievgen Khytrov. One site called the judges' decision "a robbery" while another said it was "a travesty of justice".
Iran
The disqualification of Iranian boxer Ali Mazaheri, who was the country's opening ceremony flag-bearer, was widely condemned. Mazaheri himself said the decision was part of a "conspiracy" and a "set-up".
The Secretary-General of Iran's Olympic Committee, Bahram Afsharzadeh, also hinted at foul play, telling the Mehr news agency: "Some countries have influence on events like boxing and wrestling; they influence referees directly, but we do not have powerful positions and people in these events, who could defend the interests of our sportsmen."
The news agency also highlighted BBC commentator Richie Woodhall's "surprise" at the disqualification.
Iranian state radio criticized the German referee for his "unfair judgement", and reported that "thousands of foreign spectators" at the stadium protested the decision by cheering the Iranian boxer.
BBC Monitoring selects and translates news from radio, television, press, news agencies and the internet from 150 countries in more than 70 languages. It is based in Caversham, UK, and has several bureaux abroad. For more reports from BBC Monitoring, click here