Bomb kills Russian Muslim cleric and others in Dagestan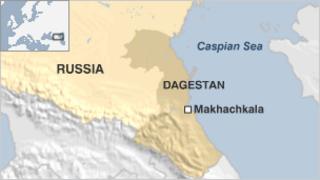 A bomb blast has killed a leading Islamic scholar and at least five others in Russia's volatile North Caucasus republic of Dagestan.
Sheikh Said Afandi, a 74-year-old Sufi Muslim, was killed by a suspected female suicide bomber in his home, Russian media quoted police as saying.
The blast happened in the village of Chirkey in the southern republic, which borders Chechnya.
Dagestan's security forces regularly clash with armed Islamist militants.
The mainly Muslim, multi-ethnic republic has seen some of the worst militant violence in the North Caucasus in recent years.
Sheikh Said Afandi was reported to have been giving a sermon in his home, when a woman, posing as a pilgrim, approached and blew herself up.
Militants have increasingly been targeting moderate Muslim leaders who have criticised extreme forms of Islam.
In late July, Russia's republic of Tatarstan, on the Volga River far to the north of Dagestan, suffered similar attacks, again blamed on Islamist militants.
A bomb blast seriously injured the Mufti of Tatarstan, Ildus Fayzov, and gunmen shot dead a former deputy mufti, Valiulla Yakupov, on the same day.